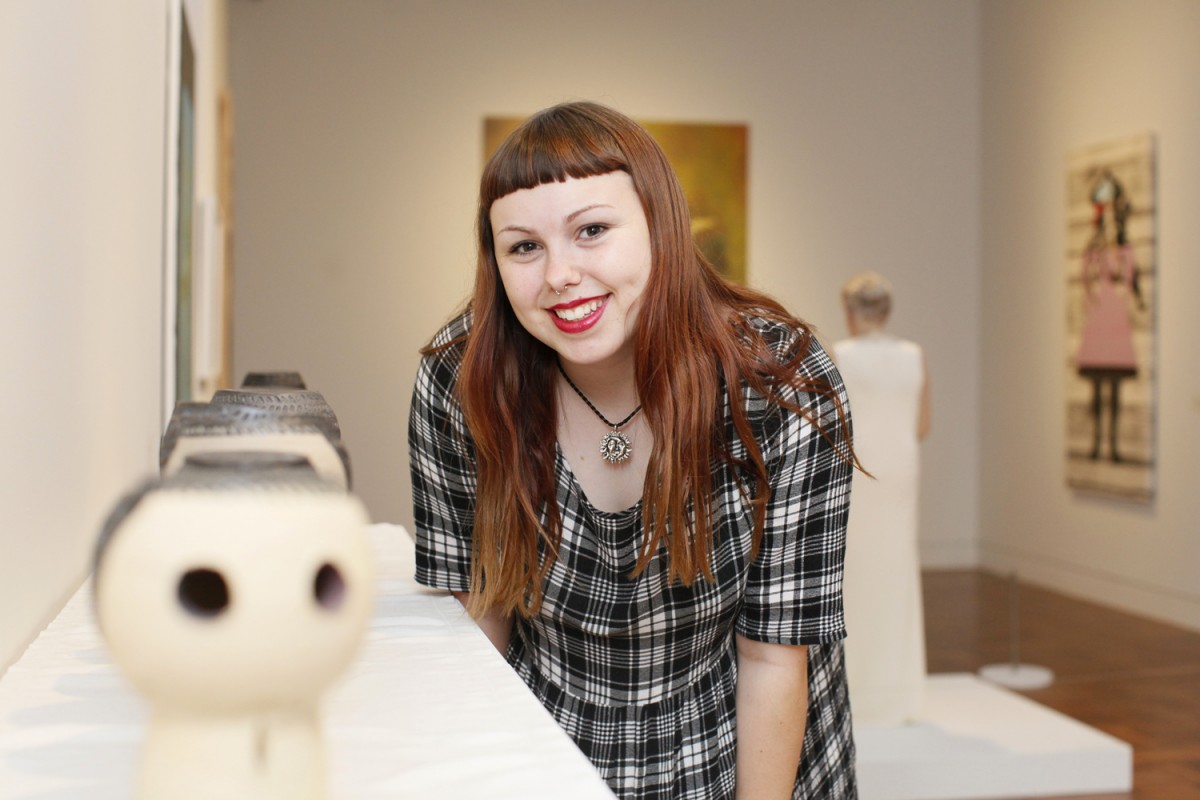 ArtsReady is a national program that supports young Australians seeking a successful and rewarding career in the arts and creative industries, by providing them with paid work, combined with a nationally recognised qualification. The traineeship experience creates practical on-the-job skills and career pathways. For employers, ArtsReady makes the task of hiring entry level roles as straightforward as possible.

Read one of the many success stories of ArtsReady below:
ArtsReady School-Based Trainee Darcy Pierce was always a singer but since working at the Shepparton Art Museum (SAM) she has found an unexpected interest in the world of art.
A traineeship can open your eyes to what's around and lift your sights a little bit higher than the horizon. Until Darcy met SAM she had never thought about a career in art, or anything art related, but now she says she's really interested, which is something she never expected of herself.

So, how did a singer become involved in an art museum? By listening. Darcy heard of the opportunity over the morning announcements one winter's morning at school. See people, it pays to listen to those announcements. Being a self-confessed klutz, at first Darcy imagined herself dropping priceless artworks, but her big sister talked her around to applying. See people, sometimes big sisters know things you don't.
Darcy impressed SAM and she got the once-a-week date at the gallery. Now she is studying a Certificate II in Business with other subjects in Year 11 and going behind the scenes of a gallery that few get to do. She knows what it's like to be front-of-house, to do admin, to work on a marketing plan and to develop an education program. And that's only halfway through the traineeship, so how much more she can learn, and not just learn, but do, in the time she has left?
Again, let's hear from Darcy: "SAM has certainly opened my eyes to many possibilities that involve art as well as business. This traineeship has assisted me in advancing in areas such as communicating with others, understanding and growing to appreciate art in its many forms, and familiarising myself with a workplace environment. It has also helped build my confidence and professionalism and has resulted in me becoming more motivated and attending school fluently, as it helps break up the school week. In short, rather than completely altering my path and imbuing in me a realisation of my trajectory, it has greatly assisted me in realising the endless possibilities and has piqued my interest in the idea of a career in business and art, both of which are things I plan on pursuing at some stage along my journey."
ArstReady trainees are highly capable people and from her words alone you would have to agree that Darcy is exceptional. More so when you know she has just turned 16. But no matter how good you are, you are always better with people behind you. Like all ArtsReady trainees, Darcy has a Field Officer, Michael Caruso, to support her in the job and to check on her progress at school. Mick was a school teacher for 26 years so he is a handy back-up for Darcy and makes sure all is good at school through the Careers Advisor Graeme Crosbie and at SAM through the director Kirsten Paisley.
Those supports are standard for ArtsReady School-Based Trainees but, being Indigenous, Darcy gets one more: a personal Indigenous mentor. For her it's dual Olympian Kyle Vander-Kuyp. That extra support can be a crucial connection to country and community.
If you take the Darcy Pierce from July last year and look at Darcy Pierce now, you see the same girl but with a sharper eye on the future and a stronger commitment to school. Traineeships work differently for different people, and this is hers, but the inspiration is all yours.
Read Darcy's story and many more here.
If you would like to know more about ArtsReady or want to create your own story, please contact Frances Corkhill, ArtsReady Program Manager – NSW & ACT on 0408 186 142 or email Frances.Corkhill@artsready.com.au