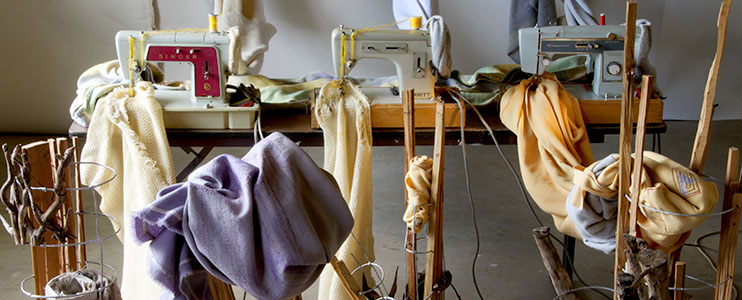 SCAG Future Feminist Archive
Future Feminist Archive exhibition is open from Thursday 5 – Saturday 28 March 2015 at SCA Galleries.
This year is the 40th anniversary of the first International Women's Day and 20 years since art historian Joan Kerr's seminal National Women's Art Exhibition took place in venues across Australia.
Future Feminist Archive an initiative of Contemporary Art and Feminism (CAF), a group which has been instrumental in celebrating these milestones and re-igniting the conversations around feminism's role in contemporary art. Embarking on a yearlong project with artists, archivist and art historians CAF aims to create, document and archive feminist 'being and thinking' through a diverse calendar of events in cultural institutions around the country.
Just in time for International Women's Day, Future Feminist Archive exhibition opened at SCA Gallery in Rozelle.
Based at the University of Sydney, CAF has teamed up with the Design & Art Australia Online to begin a series of regional case studies and symposia in response to a major resurgence of interest in feminism and contemporary art practice.
Just in time for International Women's Day, Future Feminist Archive exhibition opened at SCA Gallery in Rozelle. Featuring female artists who have produced work responding to the past, the show acknowledges that the art of today will one day form part of the history of the future.
The centre-piece of the exhibition is the 'Daughters Mothers' section – an intergenerational exchange between mid-career female artists and their mothers. For me, the most successful works are the creative conversations between Sue and Peggy Pedley, and Alison and Joan Clouston.
Never-ending by artist Alison Clouston and her mother Joan, is a large-scale installation which consists of embroidered blankets suspended from the internal architectural features of the building and running through three vintage sewing machines. Interwoven with small vine and wire structures, embroidery and sewing samples encased in a vitrine, the assemblage hovers above suggesting the often repetitious nature of 'women's work'.
The collaborative result between the artist Sue Pedley and her mother Peggy, Patches of Light, also makes clever use of the gallery space. The artists have hung two long formations of sheep's wool, seaweed and fabric from the high ceiling, wedging black and white wool between the floor and the bottom of the white exhibition walls. The work makes reference to Peggy's – and many mothers before her – resourcefulness in repurposing everyday materials for the benefit of their households.
For me, the most successful works are the creative conversations between Sue and Peggy Pedley, and Alison and Joan Clouston.
I was attracted to both these works for their materiality. They explore women's role in the domestic space, using materials and practices considered uniquely feminine. They capture the resilience of 'mother' in both general and personal ways – the wool in Patches of Light brought back fond memories of my own childhood on a sheep farm, and of my grandmother's failed attempts to teach me to knit.
The work by Tracey Moffatt was also highly engaging. Art Calls is a video project in which Moffatt interviews, via Skype, creative people like fashion designer Jenny Kee and artist Abdul-Rahman Abdullah. Moffatt has such charisma and a sense of humour so quirky; I could have spent all afternoon watching her delve into the talented minds of her interviewees.
If you are planning on visiting, bear in mind that there is some spill-over noise from the series of 1970s feminist films in the adjacent room. Quite possibly those viewing the films experienced the same interference from Moffat's piece as neither space adequately contained the sound.
Future Feminist Archive is accompanied by a catalogue, but the provision of interpretative information such as introductory text and extended wall labels tying each piece back to the archive theme, would have added another level to the project.
In spite of these details, Future Feminist Archive is a remarkable way to celebrate 40 years of International Women's Day, as it enables us to reflect on the past and consider what the future may look like.
Future Feminist Archive is now on at SCA Galleries until Saturday 28 March.
For more information about the Contemporary Art and Feminism events visit: www.contemporaryartandfeminism.com
Jane Gillespie is M&G MNSW's Professional Development Coordinator with over 15 years' experience working in the arts. She has a background in contemporary visual arts, with a particular passion for emerging and experimental practice. Jane is currently a Co-Director at Firstdraft and is undertaking a Masters of Art Curating at the University of Sydney.