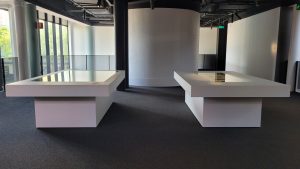 The Museum of Applied Arts and Sciences is giving away two custom built display tables.
They will be available for collection from Powerhouse Ultimo from 25 – 30 January 2023.
The cases were part of the recent exhibition Weavers, Merchants and Kings: Cadrys 70th at Powerhouse Ultimo.
Dimensions
Both tables are the same size with different sized display appertures.
2700mm w x 1700mm d x 850mm h
Table 1 Aperture
2100mm w x 1368mm d x 40mm h
Table 2 Aperture
1110mm w x 750mm d x 40mm h
Glazing is 10mm laminated glass.
Please see images.
Please contact Amy or Hannah via productionadmin@maas.museum to reserve the cases or if you have any questions.
Inquiries will be responded to on a first come, first served basis.