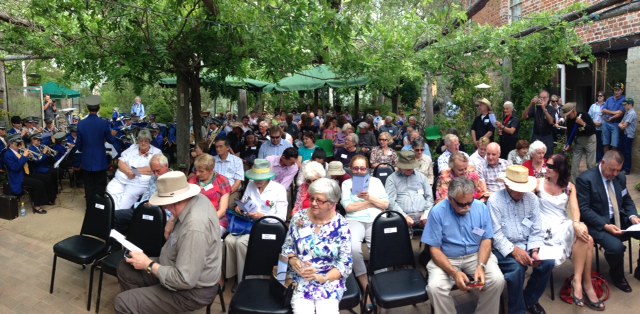 Last Saturday 9th November I was invited to participate in official proceedings associated with the opening of The Chaff Shed – the latest attraction developed by the Uralla Historical Society at McCrossin's Mill.
With over 120 supporters present the event also marked the launch of four revamped displays in the existing museum space. Kent Mayo and his team of dedicated volunteers have resourcefully managed a staged refurbishment program. Giving new life to their core local stories, New Gold Mountain, A Tribute to the Anaiwan, Not in Their Father's Footsteps and Trickett's Triumph are impressive re-interpretations of local significance.
But it is in The Chaff Shed where this museum now shines brightest. An extraordinary and faithful re-build of McCrossin's 1881 chaff shed – the space is resplendent with refurbished farm machinery and period fire engine, and is expected to draw huge crowds to this popular heritage spot.
If you get a chance to drop in (15 minutes south of Armidale on the New England Highway) Uralla itself is a delightful town dominated by granite outcrops – that once provided refuge to enigmatic bush ranger, Captain Thunderbolt.
Michael Rolfe. CEO M&G NSW