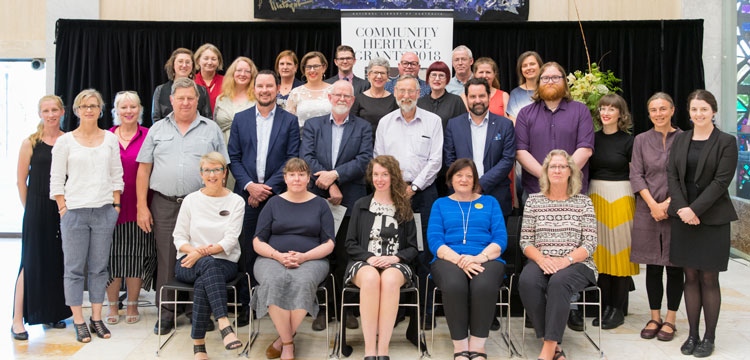 The Community Heritage Grants (CHG) for 2018 have recently been announced with more than $367,470 awarded to 60 organisations and community groups across Australia.
The CHG program, which is managed by the National Library of Australia (NLA), provides grants of up to $15,000 to community organisations such as libraries, archives, museums, indigenous and multicultural groups, genealogical and historical societies from inner cities to the most remote parts of Australia.
Director-General of the National Library, Dr Marie-Louise Ayres, said in this year's round applications were received from 121 organisations across Australia.
Museums and Galleries in New South Wales were well represented with the following projects funded.
Australian Jewish Historical Society – Preservation Needs Assessment of the Collection
Bathurst District Historical Society Inc – Preservation Needs Assessment of the Photographic Collection
Broken Hill City Council – Rehousing of the Ralph O'Connor Negative Collection
Care Leavers Australasia Network Inc – Significance Assessment of the National Orphanage Museum Collection
Coffs Harbour Regional Gallery – Significance Assessment of the Regional Museum Collection
Manning Valley Historical Society Inc – Preservation Needs Assessment of the Wingham Museum and Archives
Friends of the Hawkesbury art community & Regional Gallery Inc – Preservation Needs Assessment of the Clint Collection
Hawkesbury Regional Museum – Preservation Needs Assessment of the Collection
Lithgow Small Arms Factory Museum – Preservation Needs Assessment of the Archives and Library Collections
Moree Cultural Art Foundation Ltd – Significance Assessment of the Bank Art Museum Moree Collection
Mosman Art Gallery – A Disaster Preparedness Plan and two Disaster Kits
Museums Australia – Mid North Coast Chapter – Seven regional Significance Assessment Workshops
National Trust Norman Lindsay Gallery and Museum – Conservation treatment of Norman Lindsay's Lay Figure
Tamworth Historical Society Inc – Purchase of environmental monitoring equipment