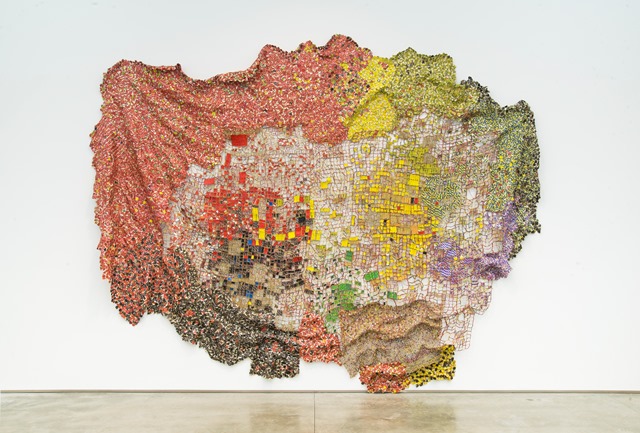 Recently we saw an unusual partnership unveiled. Anna Schwartz, successful commercial gallerist and Lisa Havilah of Carriageworks have agreed on a five-year private-public partnership which will bring a range of international and dynamic shows our way. Under the terms of the agreement, Schwartz will donate $500,000 for a program of exhibitions over five years, so things are about to get even more ambitious and exciting.
There will be a minimum of two shows every year and at least one will be international. As part of the Sydney Festival, the first opens in January and presents five decades of work from the Ghanaian artist El Anatsui, the winner of the inaugural Golden Lion award at this year's Venice Biennale. It's a grand opening statement—one not to be missed— which neatly heralds plans to host major artists from all over the world.
Anna will be heavily involved in selecting artists, and her collaboration will be essential.
Having the Anna Schwartz Gallery on hand will add so much to the program profile of a visit to Carriageworks, arguably Sydney's most dynamic cultural space. 'We wouldn't be able to do it without Anna's partnership', Carriageworks Director Lisa Havilah said. 'It's critical because working internationally … always takes a big commitment and a lot of investment and it also takes time', Havilah says. Havilah explains this is not just about handing over a cheque and says that Anna will be heavily involved in selecting artists, and her collaboration will be essential.
In recent years Havilah (and Carriageworks) has led the way in re-thinking how Sydney's many contemporary culture offerings are presented and related, together. The essence of any successful partnership requires new thinking; new ways of working that are mutually beneficial and grow opportunities.
This is certainly one of those: Schwarz she sees the partnership as a way to collapse the border between the private and public art worlds. "It seemed like a really powerful way forward, to work together and join our forces, and to be very ambitious." We can only agree and commend both parties for the vision seen— without a doubt, audiences are the winners here.