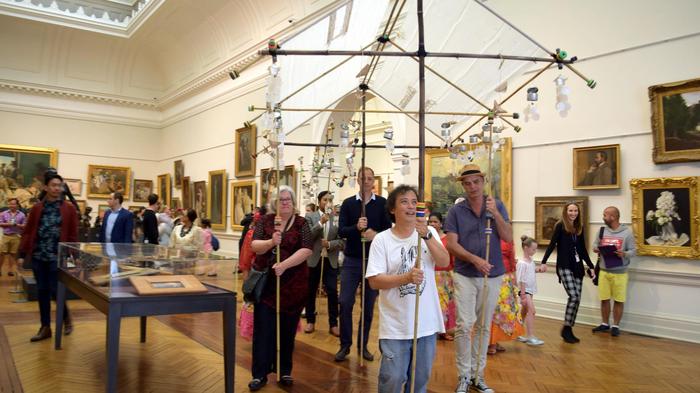 The Bayanihan Philippines Art Project is a collaboration aimed at promoting the art and culture of the Philippines through a series of exhibitions, performances, creative writing and community programs across multiple venues.
The Bayanihan (pronounced as buy-uh-nee-hun) is a Filipino custom derived from a Filipino word "bayan", which means nation, town or community. The term bayanihan itself literally means "being in a bayan", which refers to the spirit of communal unity, work and cooperation to achieve a particular goal.
For the past 15 months five of Sydney's cultural spaces have been working on the Bayanihan Project which was launched last Saturday at the Art Gallery of NSW. From the middle of next year a range of exhibitions and related programs will be presented across Sydney with the aim of highlighting aspects of contemporary Filipino culture and recognition to Sydney's large Filipino communities.
Key collaborators on the project are the Art Gallery of NSW, Mosman Art Gallery, Blacktown Arts Centre, Peacock Gallery & Auburn Arts Studio and Campbelltown Arts Centre.
A brief summary of scheduled projects at each of the participating venues are as follows:
Art Gallery of New South Wales: Love and Sacrifice Art from the Philippines exhibition for June 2017 working with major international collections, exploring Philippine art from both historical and contemporary perspectives.
Blacktown Arts Centre: Balik Bayan program will feature both local and international artists across forms, connected together by notions of the house as a fortress of memory. The project will address the Philippine culture of Fiestas and Parades and the ritualistic side of public performances.
Campbelltown Arts Centre: DAVID GRIGGS: BETWEEN NATURE AND SIN (a retrospective of Philippine based Australian artist David Griggs) including the release of a major full length feature film by Griggs and a performance dance project of Filipino Australian Skaters from Campbelltown. Museums & Galleries of NSW will be touring the exhibition nationally in partnership with Campbelltown Arts Centre.
Mosman Art Gallery: Bayanihan – Philippine/Australian Contemporary Writing Project and Halo Halo an exhibition commissioning locally and internationally based visual artists.
Peacock Gallery (Auburn): Not Home but Here project looking at the concept of 'home' and the maintenance of Philippine Culture, eg. contemporary programming of a Festival of Philippine Food and Culture.
A procession lead by artist Alwin Reamillo with a new iteration of his Hopping Spirit House as it makes its way through the Gallery and interacts with other artworks on display as well as performances of traditional dance, performance poetry, and other contemporary forms of performance.
Performance by Bhenji Ra, Caroline Garcia and Justin Shoulder
Key Partners:
Australian Museum: Loan of items from their collection as well as ongoing support and connection for the suite of projects.
Dr John Yu: Project instigator and advisor
Anne Louis, Philippine Consul General in Sydney: Project advisor
Museums & Galleries of NSW: Provision of regional outreach strategies for public programs and touring components of the exhibitions
Filipino community organisations