ACHAA Member Aboriginal Cultural Centres
About ACHAA
ACHAA is the Peak Service Body for the community-controlled place-based sector engaged in the Aboriginal arts, culture and heritage of New South Wales.
ACHAA was formed by its members to be a networking and support base in 2014 after they met at the NSW Summit of Aboriginal Arts and Keeping Places in 2012 and identified this action as a priority. ACHAA exists to:
Create a sustainable and resilient network of NSW Aboriginal culture, heritage & arts organisations.
Provide and facilitate training and development for those who work and volunteer in the NSW Aboriginal culture, heritage and arts place based sector.
Promote the value of NSW Aboriginal culture, heritage and arts and artists to the broader arts, heritage and culture sector and wider community.
Engage with all levels of government and non-government organisations for the support and promotion of NSW Aboriginal culture, heritage and arts.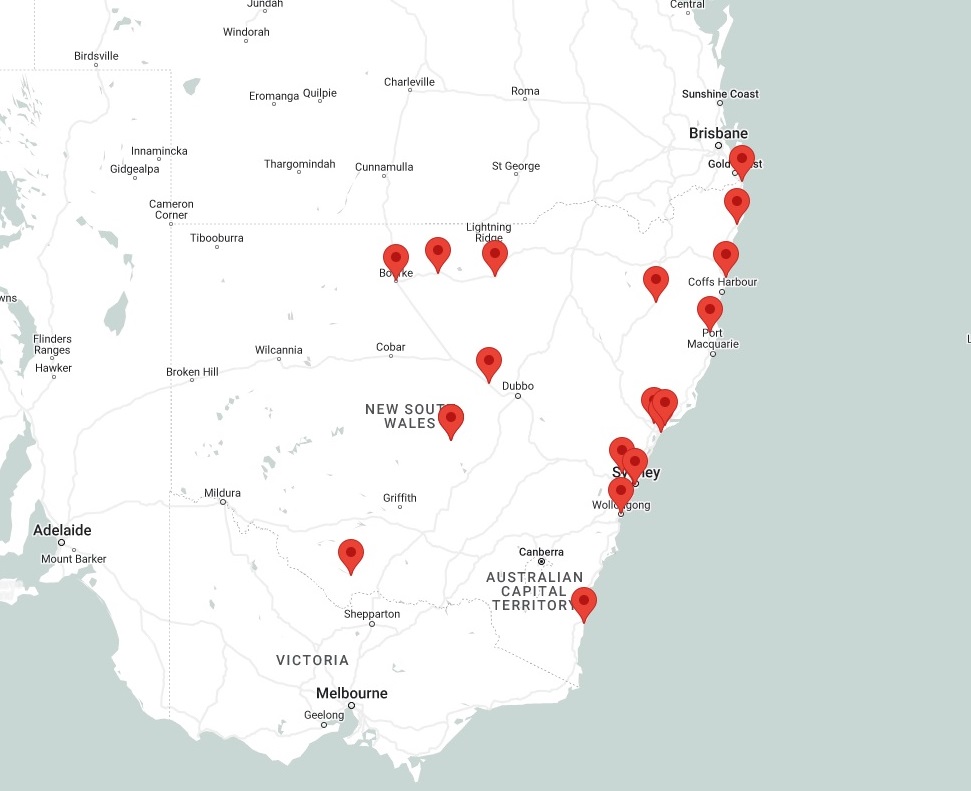 ACHAA member locations across NSW
---
ACHAA Members
The Armidale & Region Aboriginal Cultural Centre & Keeping Place (ACCKP) is situated in the city of Armidale on the New England Tablelands of Northern NSW, with and Aboriginal population of around 8,000 or 10% of the tablelands total population and comprising of Anaiwan, Kamilaroi, Dainggatti, Ngarabal, Banbai, Gumbainggier and Bigambul nations.
"We are a not-for-profit organisation dedicated to preserving the cultural excellence of the original peoples of Australia. We feature an extensive collection of Aboriginal artefacts and historical volumes from all over the state and feature collection of family history documentation. It is our goal to educate people about our traditional ways and lives in hope to foster a better understanding of our myriad cultures that made Australia pre-European settlement."
In the languages of the Bundjalung, Gamilaroi and Wiradjuri, Boomalli means to strike; to make a mark. Boomalli is the longest running Aboriginal owned and run arts organisation dedicated to supporting and promoting NSW language group artists. Boomalli provides a safe space for artists to exhibit, work and tell their stories through their art.  Boomalli Aboriginal Artists Co-operative was established in 1987 by ten founding member artists: Euphemia Bostock, Fiona Foley, Michael Riley (dec.), Tracey Moffatt, Jeffrey Samuels, Bronwyn Bancroft, Avril Quaill, Fern Martens, Arone Meeks (dec.), and Brenda L. Croft. These ten artists were striving for recognition from the mainstream art society and their diversity was unparalleled. They challenged preconceptions around urban- based Aboriginal artists and created a unique space for themselves within the art world.
Bourke Aboriginal Art Gallery, situated in Bourke's main street, is run by local Indigenous artists for local Indigenous artists. Besides the wonderful paintings the Gallery has other artwork including carved and painted emu eggs, ceramics, jewellery, didgeridoos, emu callers, bowls, coolamons and other wood items. The artists paint, carve and create using traditional and modern techniques.
The Brewarrina Aboriginal Cultural Museum stands at a site which has been of great importance to Aboriginal people in the north west New South Wales for tens of thousands of years. Brewarrina Aboriginal and Cultural Museum is a no holds barred, Indigenous account of Australia's history from the beginning of time right through to today.
In the ancient tradition of storytelling the Ngemba, Ualarai, Weilwan and Baranbinja people trace the footsteps of their ancient ones, sharing stories that many thought long since forgotten.
Dharriwaa Elders Group (DEG) was established in 2000 and took its name from one of its sacred sites – Narran Lakes – Dharriwaa (common meeting place). Aboriginal people represent around 70% of Walgett's population, and are from Yuwaalaraay, Gamilaraay, Ngayimbaa and Wayilwan language groups who settled in Walgett after moving from the three NSW-managed "missions". DEG has developed an advocacy capacity in Aboriginal Cultural Heritage, environmental and social policy affairs, forming relationships with landholders, governments, agencies and expert collaborators seeking to influence Walgett's wellbeing and future.
It is our goal to educate people about our traditional ways and lives in hope to foster a better understanding of our myriad cultures that made Australia, pre-European settlement.
Our goal is to restore the artistic voices of NSW Aboriginal people, first colonized and last recognized.
These are true stories, important stories. These stories belong to all Australians.
Dunghutti-Ngaku Aboriginal Art Gallery is a community-based gallery located in Kempsey. As indicated in the name, the gallery is situated on the traditional lands of the Dunghutti nation. The Macleay Valley is the heartland of the Dunghutti people, with remnants of their ancient culture remaining today. Extending from the eastern coast to the tablelands in the west, Dunghutti country encompasses Kempsey, Bellbrook, and the towns of the Macleay Valley Coast.
The Illawarra Aboriginal Culture Centre and Keeping place is an Aboriginal community-controlled, not-for-profit organisation that is committed to meeting the social, cultural, and economic needs of Aboriginal people in the Illawarra.
Based in Wollongong and working across the region, they are driven to achieve excellence in providing advocacy and culturally appropriate services to meet the needs of the local Aboriginal and Torres Strait Islander community. They provide opportunities for all community members to experience and share contemporary Aboriginal Culture.
The Maliyan Cultural Centre in Wellington NSW is dedicated to showcasing, exploring and elevating the rich cultural history of the Aboriginal people of the region. "We focus on community, culture, conversations and continuity in telling our stories and the stories of those who have been here before us. We understand the intercultural nature of our people and the complex relationships they have with each other and the land."
The Minjungbal Aboriginal Cultural Centre at South Tweed Heads adjoins the beautiful Ukerebagh Nature Reserve. It is their mission to preserve and protect this area's significant cultural heritage while also providing a facility for those who want to learn about and explore the history and native coastal bushland environment. Minjungbal Aboriginal Cultural Centre also provides evidence of and information on the rich Aboriginal cultural heritage, both past and living. It's a popular meeting place for Goori people and the wider Aboriginal community and offers visitors an authentic insight into many aspects of Aboriginal culture.
Miromaa Language and Technology Centre was founded in 2002 as the Arwarbukarl Cultural Resource Association Incorporated (ACRA). The original focus was to revive the Awabakal language and culture in Newcastle, Lake Macquarie and the Lower Hunter Valley. Awabakal was listed as an extinct language and one of the first languages in Australia to have stopped being spoken.
Since 2008 the organisation has operated under the trading name Miromaa Aboriginal Language & Technology Centre (MALTC) – a more accurate reflection of its national and global role in language revitalisation and advocacy. MALTC's journey of reclamation and empowerment through innovation has shaped what the organisation has become today.
Bourke First Nations visual artists are flourishing with the opening of a new gallery supported by Muda Aboriginal Corporation, which also runs regional radio network 2CUZ FM. Supported by Muda Aboriginal Corporation, the Bourke Aboriginal Art Gallery is more than just an outlet for artists' work. It also has workshop space, including woodworking space and equipment where people can create their art and contemporary cultural objects. All materials including canvases, paints and brushes are provided free of charge and the gallery charges a small commission on the artwork sold to cover administration and supply costs.
Visitors to the Bourke Aboriginal Art Gallery can meet artists, watch them at work and have them explain the stories behind their artworks before purchasing artworks.
Murrook Culture Centre's purpose is to gather, sustain, protect and teach Aboriginal Culture to all people with an emphasis on Worimi culture being the land and people of this area. This facility on Nelson Bay Road at Williamtown was previously a tourist fun/amusement park which ceased operations in 2004.
Local Aboriginal people teach various groups, from schools (pre, primary, secondary and Uni/TAFE), to community, business & government groups and international visitors. Most importantly, Murrook is used byAboriginal community as a gathering place.
Muru Mittigar is a Dharug-controlled social enterprise with over 20 years of experience. They seek to create a better understanding of Aboriginal culture in the wider community; create new jobs; develop workplace skills training and increase sustained employment opportunities for Indigenous Australians. It also educates, celebrates and exhibits Durug Culture and artists.
For more than 65 years, Tranby, Based in Gadigal Country, Glebe, has been a place of community connection, Aboriginal-controlled education and social action for Indigenous peoples. They are Australia's oldest independent Indigenous education provider.
This centre is located on Koori-owned land at Jigamy Farm on the shores of Pambula Lake, 10 kilometres north of Eden. This magnificent keeping place building was constructed by local community members learning building skills on the job. Other projects developed at the centre include a cultural bush walk, a performance circle (bunan ring) and open ground for sports activities.
The centre is also important to the local Koori community as a place to share and restore traditional skills and knowledge and to develop new expressions of Koori culture. Projects to preserve local language, family, social and political history are in progress at the centre, providing the community with a unique archive of history and culture of of the People of the Mountains and the Sea.
The Wiradjuri Condobolin Corporation (WCC) aims to create a better quality of life for the people of the Wiradjuri Condobolin community. To establish a sustainable, smarter community and a knowledge economy, through the business activities and the programs emanating from the Wiradjuri Study Centre (WSC).
The Wiradjuri Condobolin Corporation undertake activities which will revitalise local Aboriginal culture, give meaning and substance to a Wiradjuri world view and foster new attitudes among local Aboriginal people toward learning and self-esteem, from which will come the energy of local people to establish culturally appropriate, sustainable economic wealth-creating activities.
A unique centre that celebrates the Aboriginal culture of the Trangie area, set in the surrounds of a beautiful native garden, including a yarning circle camp site and traditional dance circle. This centre holds a fabulous collection of artefacts that have been sourced predominantly from Central NSW and two magnificent carved burial trees that once stood on a property along the Macquarie river.
Yarkuwa is a Traditional Owner organisation based in the town of Deniliquin in the Riverina Region of New South Wales. It was formed in 2003 to ensure traditional owner knowledge was preserved in future generations. It has a membership composed of local traditional owners connected to the Wamba Wamba and Perrepa Perrepa Nations and covers the Northern part of the Wamba Wamba /Perrepa Perrepa Country and includes the district around Deniliquin and Moonacullah.
Originally established in 1987 by the Gumbaynggirr Elders, Yarrawarra, meaning "happy meeting place", is an Aboriginal cultural, conference and accommodation centre and is proudly owned and operated on a not-for-profit basis by Aboriginal people, predominantly from the Gumbaynggirr language group. The centre is approximately 30km's north of Coffs Harbour on the fringe between the Mid North Coast and the Northern Rivers regions, this is the northern coastal lowlands of Gumbaynggirr nation. Wadjar Art Gallery has a Bush Tucker Cafe and a range of cultural activities and information for day-visitors as well as Nuralamee Accommodation and Conference Centre.
Yarrawarra focuses on Aboriginal and Islander descendants maintaining their Cultural Heritage and integrity, and is proud to be open to the public so they can learn about and enjoy authentic Gumbaynggirr culture, art & history.
All images courtesy ACHAA member centres.