Curating Lively Objects: Exhibitions Beyond Disciplines

Let's Get Digital Presents:
Curating Lively Objects: Exhibitions Beyond Disciplines
Book launch and virtual social experience
To see more information about the ideas discussed in the book click here.
Fri 5th Nov 2021, 4:00 pm – 6:00 pm 
What if things shape museums as much as museums give value to things?
Digital technologies are transforming our relationship to material culture and increasingly objects seem to have a life of their own. Join a discussion on how such "lively objects" can help us imagine creative futures for museums.
MGNSW is pleased to host the launch of Curating Lively Objects, a new book of essays by Australian and Canadian artists and curators, published by Routledge.The online event will feature a talk with co-editor Lizzie Muller Muller with a Q+A chaired by Zanny Begg.
Afterwards participants can join an experimental virtual experience in a bespoke environment built in Mozilla Hubs.
Mingle and chat in a virtual bar listening to the ambient sounds of the award-winning sound artist, Rainbow Chan.
Enter the world of Lively Objects by exploring three interconnecting rooms where you can talk with authors and encounter some of the extraordinary objects they discuss:
Troublesome Objects – "Things that challenge museum and disciplinary or social categories"
Anna Davis, Curator MCA
Metabolic Objects "Fleshy beings of medicine, cookery and natural history"
Oron Catts & Ionat Zurr, SymbioticA/Tissue Culture and Art.
Energetic Objects "Things that concentrate or transmit spiritual, magical and physical forces"
Katie Dyer, Senior Curator, Contemporary, Powerhouse Museum Katie Dyer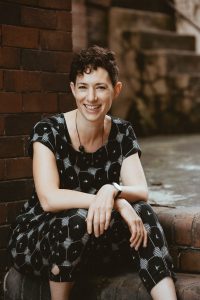 Speakers:
Lizzie Muller is a curator and researcher specialising in audience experience, reflective-curatorial practice and participatory knowledge creation in museums. She is Associate Professor at UNSW, Art & Design, Sydney.
Oron Catts and Ionat Zurr artists, researchers and curators and pioneers in the field of biological art. Together they are co-founders of the Tissue Culture and Art Project and
Anna Davis is Curator at the Museum of Contemporary Art Australia, her research focuses on future ecologies and fantastical worlds, with an emphasis on encounters between human and non-human entities.
Katie Dyer is Senior Curator, Contemporary at the Powerhouse Museum where she leads and develops creative cross-disciplinary contemporary curatorial programming.
Performer:
Rainbow Chan has built a reputation as one of the most innovative musicians in Australia. Driven by a DIY spirit, Chan melds catchy melodies and off-kilter beats made up of field-recordings and found sounds. Her idiosyncratic brand of pop holds a mirror up to diasporic experiences, and also deeply personal tales of love and loss.
About the book:
Curating Lively Objects explores the role of things as catalysts in imagining futures beyond disciplines for museums and exhibitions. Featuring leading artists and curators from Australia and Canada this collection of essays addresses object liveliness from a range of entwined perspectives, including new materialism, decolonial thinking, Indigenous epistemologies, environmentalism, feminist critique and digital aesthetics. Co-edited by Lizzie Muller and Caroline Langill Curating Lively Objects provides a vital resource for professionals working in museums and galleries around the world as they respond to the challenge of changing disciplinary boundaries.
Curating Lively Objects is available as hard back, e-book or for Kindle.
Let's Get Digital is proudly supported by the NSW Government through Create NSW as part of Arts Restart.