Collection Management: Volunteers
Here are the 2012 nominees for Collection Management for volunteer run organisations.
The winner of this category was Queanbeyan and District Society and Museum. Both Canowindra Historical Society & Museum and Port Macquarie Historical Society and Museum received highly commended awards.
Please note that all of these lovely images are courtesy of the nominees.
Canowindra Historical Society & Museum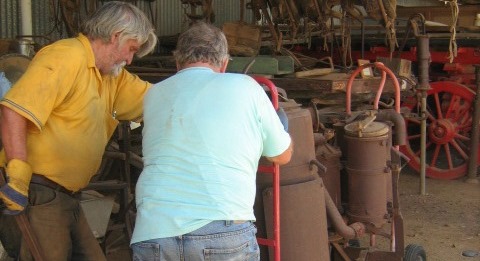 This project assessed the significance of the Museum's lucerne farming collection. Lucerne is an important crop to Canowindra's development. Although farmed in many locations, its history is not well documented.
Before embarking on the project, objects were scattered through the Museum in order of acquisition and generally the only recorded information was the donor's name. Volunteers conducted research, oral histories, significance assessments, cataloguing, relocating objects and creating descriptive labels revealing many significant items and new information. For example, members traced a farmer who used a Mudgee press (horse powered baler) he in-turn was able to provide an oral history, photographs and other related objects.
The collection is now accessible to the public and object conditions can be monitored.
Old Courthouse Museum Bateman's Bay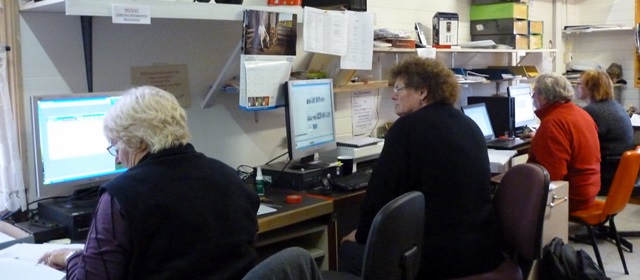 Appreciating the need to adopt new standards in museum practice, the Historical Society participated in the 2011 M&G NSW Standards Program. As a result, they adopted the collection management system, MOSAiC.
With thousands of uncatalogued objects, the database team donated their time to learn the system and visit other museums using MOSAiC to gain experience. Based on this research, the team designed new object forms based on the screen layout and implemented an object photographing process. The team also become familiar with website research tools, enhancing their exhibitions as a by-product.
Port Macquarie Historical Society & Museum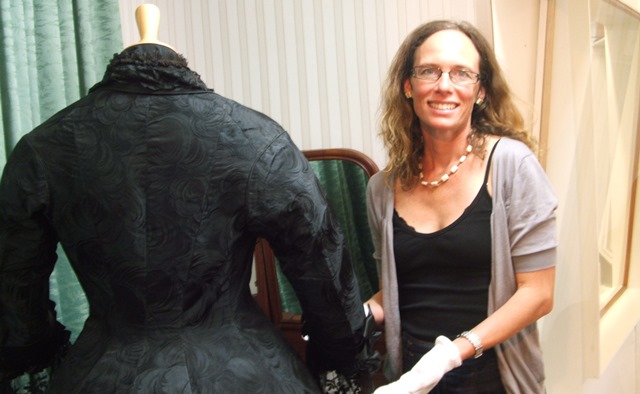 Port Macquarie undertook a Preservation Needs Assessment as recommended by a Collection Significance Assessment, both funded by Community Heritage Grants.
Spending time with the consultant during the assessment was a great learning experience for volunteers. They discussed best practices for pest control, object handling, adjusting lighting and reducing dust, implementing them before receiving the report.
Recommendations have been incorporated into the Strategic Plan and Exhibition & Display Program Plan. They have modified the way they handle objects and have implemented a regular display and cleaning schedule. Information from the report has assisted the Museum by supporting grant applications, budgeting for storage materials and completing a Disaster Preparedness Plan.
Queanbeyan and District Historical Museum Society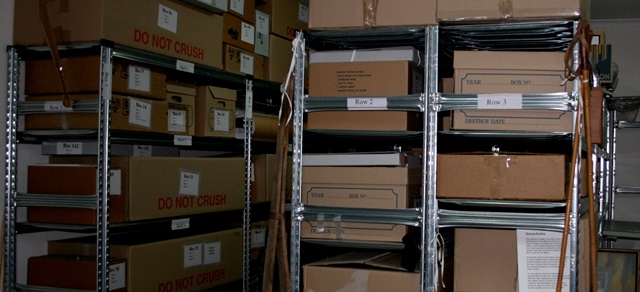 Over the last few years the Society in partnership with Queanbeyan City Council has implemented the recommendations from their 2008 Preservation Assessment Survey. At that time the collection was wrapped in newspaper and stored in different shaped boxes throughout the Museum.
Since 2008 the collection has been catalogued into Mosaic and rehoused according to recommended standards in a secure purpose designed store. The Society works on the collection by assessing significance and priorities. Data entry is done by a cataloguer and trained Society members.
Society members are now embarking on de-accessioning material that doesn't fit collection guidelines.
These processes have taken much hard work over the last few years but the Queanbeyan and District Historical Museum Society is very proud of their achievements.