Centre for Cultural Leadership program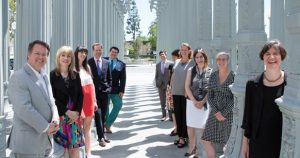 Centre for Cultural Leadership program trains curators to become visionary leaders of art museums. At a time when the demands of cultural institutions and the public are rapidly evolving, CCL provides essential tools to guide today's museums and anticipate future challenges. The CCL model encompasses mentorships with innovators and museum directors, rigorous coursework in strategic management, and professional networks for support and growth. With its graduates now at the helm of major art institutions, CCL is helping to build the next generation of museum leaders, ones who combine traditional curatorial connoisseurship and art historical scholarship with administrative, managerial, and strategic expertise.
CCL Fellowship
CCL offers leadership training for art museum curators from all art historical specialties. Established in 2007, CCL's core Fellowship provides experienced curators with instruction from Columbia Business School faculty and exposure to real-world challenges faced by cultural institutions today.
CCL/Mellon Foundation Seminar in Curatorial Practice
In 2014, with the support of the Andrew W. Mellon Foundation, CCL launched a summer seminar intensive, which introduces art history doctoral candidates at the outset of their careers to the daily challenges and strategic questions of museum practice.
MoMA International Curatorial Institute
Also in 2014, CCL collaborated with The Museum of Modern Art's International Program to design the International Curatorial Institute for Modern and Contemporary Art, an intensive workshop for curators from across the world. The Institute allows CCL to extend the reach of its training model to a global curatorial community.