Suspended Moment
Suspended Moment brings together new works by artists Frances Barrett, Sally Rees and Giselle Stanborough – the three recipients of Suspended Moment: The Katthy Cavaliere Fellowship. Established in the name of Italian-born, Australian artist Katthy Cavaliere (1972–2012), the fellowship was a one-off opportunity that provided support to Australian women artists working at the nexus of performance and installation. Curated by Daniel Mudie Cunningham, Suspended Moment contextualises key works by Cavaliere alongside the fellowship artists who benefited from her enduring legacy.
[In his 2016 book on the life and practice of Katthy Cavaliere, Daniel] Mudie Cunningham brings to light a journal entry from Cavaliere where she writes: "'When I was a child I wondered what it would be like to meet everyone in the whole world." Though an ambitious goal, through this touring exhibition Cavaliere has reached new audiences across Australia; through her estate and the new work by Barrett, Rees and Stanborough, her enthusiasm for installation and performance has found new vessels; and through Mudie Cunningham's curation, the world of Cavaliere will continue to unravel. Suspended Moment is a testament to the impact of one person, the possibility of delving deep into the self, and the importance of artistic communion.
– Madeline Brewer, Lemonade, 2023
---
The Katthy Cavaliere Fellowship
Suspended Moment: The Katthy Cavaliere Fellowship is a major new artist fellowship established in the name of Italian-born, Australian artist Katthy Cavaliere (1972-2012). Female-identifying artists or artist collectives were invited to submit proposals for an ambitious new project focused at the intersection of installation and performance art practice.
In April 2019, artists Frances Barrett (NSW), Sally Rees (TAS) and Giselle Stanborough (NSW) were announced as the recipients of the Fellowship. Each artist received $100,000 to realise an ambitious new work that are being presented in three individual exhibitions at the Australian Centre for Contemporary Art (ACCA) (Frances Barrett), Carriageworks (Giselle Stanborough) and Mona (Sally Rees) in 2020 – 2021.
The selection panel comprised leadership and curatorial representatives from the presenting institutions, including Daniel Mudie Cunningham (Director of Programs, Carriageworks), David Walsh (Founder, Mona) and Nicole Durling (Co-Director of Exhibitions and Collections and Senior Curator, Mona), Max Delany (Director, ACCA) and Annika Kristensen (Senior Curator, ACCA).
In making the selection on 24 January, which poignantly was the seven-year anniversary of Cavaliere's death, the panel noted:
Each are exceptional artists working at the forefront of experimental performance and installation practices, and each presented proposals that are especially fitting of Katthy's legacy. We are now excited to progress this significant new initiative, working with the artist fellows towards three major exhibitions of large-scale and ambitious new work to be presented in the first half of 2020. We commend the Katthy Cavaliere estate for their generous and inspirational support of Australian women artists
---
About the Projects
Frances Barrett |  A Song for Katthy
Frances Barrett has been commissioned to create a new work, A Song for Katthy, for the Suspended Moment tour. This new video work will extend her research into listening and vocalities that was initiated by her fellowship commission, Meatus, which will be presented at the Australian Centre for Contemporary Art in 2022. A Song for Katthy responds to Katthy Cavaliere's archive held in the Art Gallery of New South Wales. Taking Cavaliere's diaries and writings as a starting point, Barrett collaborated with vocalist, Joanna Fabro, to develop an improvised vocal performance.
For further details on Meatus at ACCA: https://acca.melbourne/exhibition/frances-barrett-meatus/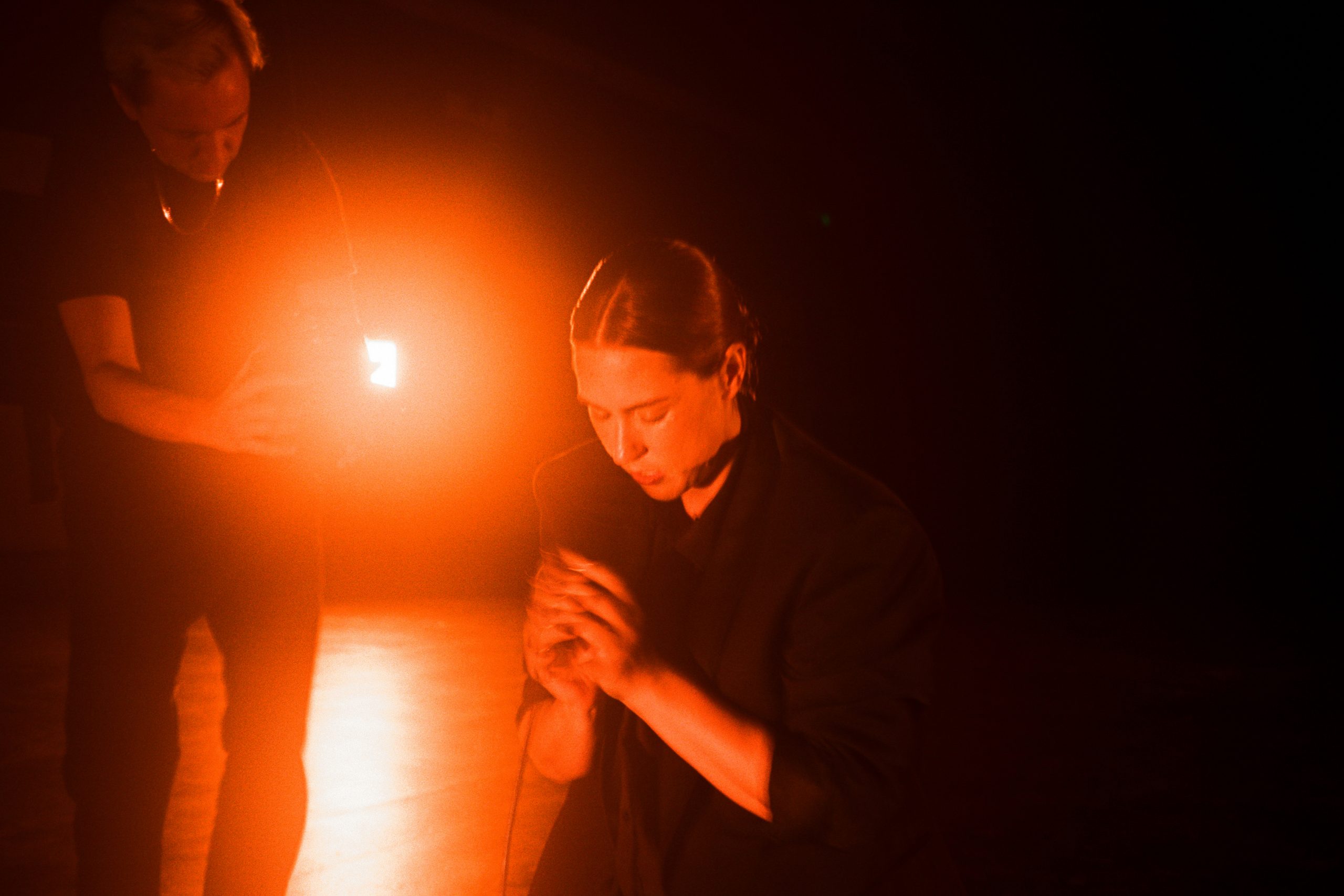 ---
Sally Rees | Crone
"With 'Crone', Rees embraces the folklore character of the crone as an ideal incarnation of the older woman: unruly, wise, fearsome. She's reversing the forced retreat into invisibility and diminished social capital as women get older" – Mona
In 2021 at the Museum of Old and New Art in Tasmania, Sally Rees will present Crone, a series of works comprising animations, prints and actions. Rees will create a crone identity as an antidote to the perceived invisibility of ageing women in contemporary society. Through the crone, the artist seeks to redefine the female elder as a powerful and transgressive figure.
For further details on the show at Mona: https://mona.net.au/museum/exhibitions/sally-rees
---
Giselle Stanborough | Cinopticon
"Searchlights, sculptural forms, colossal wall diagrams and mirrored digital surfaces reflect the performative experience of social media platforms. As the subject and object of her own system of visual scrutiny, Stanborough is the ghost in her own machine." – Carriageworks
At Carriageworks from 7 August to 26 September 2020, Giselle Stanborough's Cinopticon contemporises Foucault's theory of the 'panopticon'. Instead of the few watching the many, today we watch each other and the few. With an affinity for Katthy Cavaliere's performance of self, Stanborough works with her own personal online archive to create an immersive performance installation where audiences see their reflection in unpredictable ways.
For further details on the Carriageworks iteration: https://carriageworks.com.au/events/giselle-stanborough/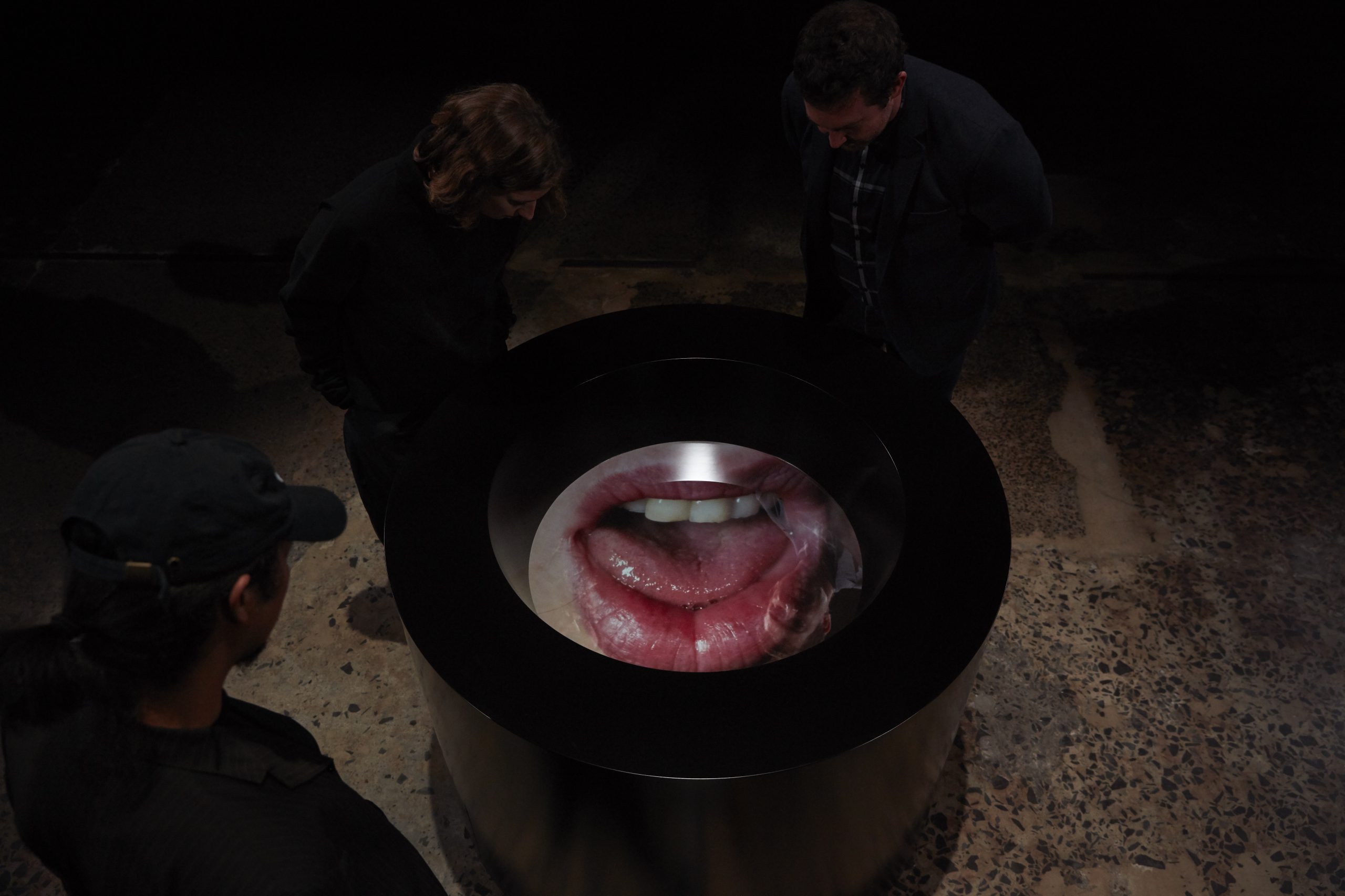 ---
About Katthy Cavaliere
Born in Sarteano, Tuscany in 1972, Katthy Cavaliere migrated from Italy to Australia with her family when she was four years old. She attended University of NSW Art & Design (then known as College of Fine Arts) in Sydney and was a recipient of the Helen Lempriere Travelling Art Scholarship in 2000, enabling her studies in Italy at the Accademia di Belle Arti, Brera, Milano. During this time in Italy she studied under Marina Abramović. Upon returning to Australia in 2004, Cavaliere staged a survey exhibition called Suspended Moment, which toured to regional galleries in NSW. The fellowship has been named to honour Cavaliere's practice and this landmark exhibition. Created at Artspace Sydney, her video performance, Loved, was included in the 54th Venice Biennale, 2011.
Following her death in January 2012, the Museum of Old and New Art (MONA) presented her retrospective survey Loved in 2015-16. Curated by Daniel Mudie Cunningham, the exhibition toured to Carriageworks in 2016 and was accompanied by an extensive career-spanning monograph.
It was Cavaliere's desire to bring to light what she did not remember of her early years in Sarteano that motivated her lifelong project of packing, storing and transporting the wreckage of her personal possessions, and transforming it into performance installation works that have been exhibited in solo and group shows internationally.
Cavaliere's work is held in the collections of the Art Gallery of New South Wales, National Gallery of Victoria, Heide Museum of Modern Art, Museum of Old and New Art, Artbank, University of Queensland Art Museum, Monash Gallery of Art and numerous regional galleries. Katthy Cavaliere's archive is held in the National Art Archive at the Art Gallery of New South Wales.
https://katthycavaliere.com.au/
---
Itinerary
Wollongong Art Gallery, NSW
26 February – 24 April 2022
Manly Art Gallery & Museum, NSW
6 May – 19 June 2022
The Glasshouse Regional Gallery, Port Macquarie, NSW
2 July – 4 September 2022
Mildura Arts Centre, VIC
15 September – 20 November 2022
Redcliffe Art Gallery, QLD
11 February – 16 April 2023
Araluen Arts Centre, Alice Springs, NT
26 May – 13 August 2023
Maitland Regional Art Gallery, NSW
2 September – 19 November 2023
Goulburn Regional Art Gallery, NSW
1 December 2023 – 6 January 2024
---
Learn More
In the Media:
Suspended Moment – by Madeline Brewer, Lemonade, 2023
Suspended Moment: The Katthy Cavaliere Fellowship receives $92,737 for national tour – download the media release
Frances Barrett, Giselle Stanborough and Sally Rees win richest art prize for female artists – by Naaman Zhou, The Guardian
Suspended Moment – by Briony Downes, Art Guide Australia
Giselle Stanborough on performing our own surveillance – by Rebecca Gallo, Art Gallery Australia
Inside Cinopticon – Carriageworks
Our Phones Were Never Private Anyway – Artist Diary by Giselle Stanborough, Carriageworks
Artist Talk: Giselle Stanborough Video– Artist Giselle Stanborough talks to curator Daniel Mudie Cunningham about Cinopticon, Michel Foucault, surveillance technologies and the seduction of TikTok
The power of older women: Sally Rees – by Briony Downes, Art Guide Australia
Frances Barrett on connecting through art and taking postponement day by day – by Briony Downes, Art Guide Australia
Sally Rees: CRONE – by Emma-Kate Wilson, Art Almanac
Education Resource:
---
A Carriageworks and Museums & Galleries of NSW touring exhibition, curated by Daniel Mudie Cunningham, developed in partnership with the Australian Centre for Contemporary Art, Melbourne and the Museum of Old and New Art (Mona), Hobart. This project has been assisted by the Australian Government through the Australia Council for the Arts, its arts funding and advisory body. This project is assisted by the Australian Government's Visions of Australia program.