David Griggs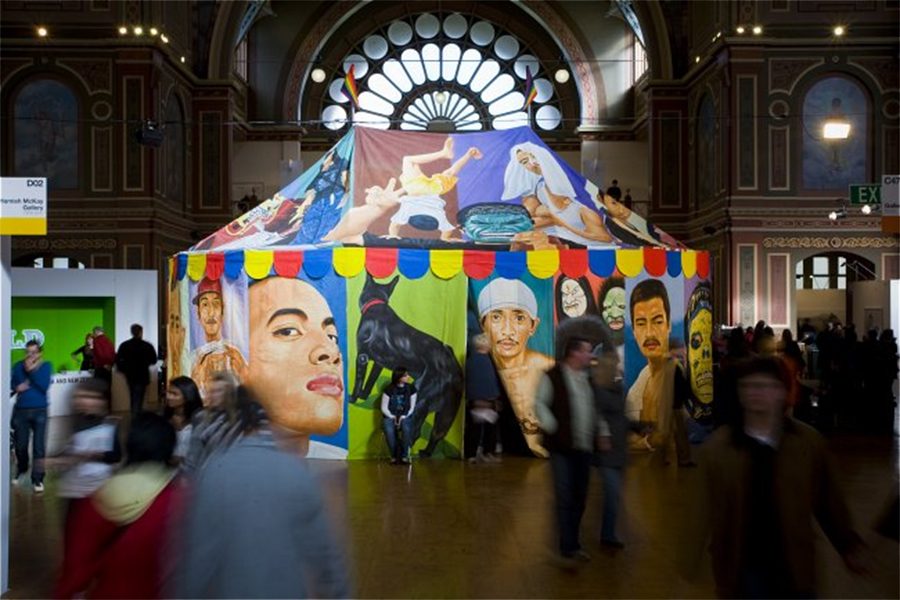 About the artist
---
Born in Sydney in 1975, Griggs has studios in both Sydney and Manila, where he has worked on-and-off for 10 years.
He has a Master of Fine Arts (Sculpture) from UNSW Art + Design and a Bachelor of Visual Art (Painting) from Sydney College of the Arts, University of Sydney. He has exhibited extensively throughout Australia and South East Asia, including Institute of Modern Art, Artspace, AGNSW, Heide Museum of Modern Art and Manilla Contemporary. In 2003, Griggs was awarded the Freedman Foundation Travelling Scholarship for Emerging Artists, the Willoughby City Art Prize in 2001; and in 1997 he won the Sir William Dobell Art Scholarship. He has been a finalist in the 2007, 2009, 2013 and 2014 Archibald Prizes.
His work is held by the Queensland Art Gallery/Gallery of Modern Art, Brisbane; Museum of Contemporary Art, Australia; University of Queensland and the Powerhouse Museum, Sydney collections. David Griggs is represented by Roslyn Oxley9 Gallery, Sydney; Gallery Ecosse, NSW; and STATION, Melbourne.
MRAG is very much looking forward to hosting this exhibition. Maitland has a small community of recent refugee arrivals and historical links with refugees – the nearby Greta Migrant Camp being featured in an MRAG exhibition in 2014. As the Griggs exhibition highlights the artist's focus on culture and community and his work with marginalised communities, this exhibition will provide MRAG with the opportunities for engagement with the LGA's own marginalised communities in our programming.
– Cheryl Farrell, Collection Management Curator, Maitland Regional Art Gallery
Current: Contemporary Art from Australia and New Zealand, edited by Art & Australia, 2008
---
In David Griggs' graffiti-trash canvases, tattooed skeletons and religious rituals collide with gun-toting cartoon characters and the Ku Klux Klan.
Griggs' journey into this street carnival of politics and spirituality began at the age of eighteen, while photographing scenes of Indian and Nepalese poverty for an underground newspaper. Later, he spent time with refugees on the Thai-Burmese border. But it was the cacophonous confluence of cultures experienced during a 2005 residency in Manila that really revolutionised his practice.
Griggs' recent paintings are a personal response to what he saw in the Philippines: death, violence, poverty, religion and sex, all writ on the huge scale of Manila's candy-coloured advertising banners. In a 'reverse collage' process riffing on the city's visual complexity, Griggs commissioned banner painters to translate selected travel photographs into paintings, which Griggs then tagged with tattoo imagery, skulls, text and other symbolic elements.
Artdaily.org, 2014
---
Renowned for his off-beat takes on sensitive subject matter, Manila-based Australian artist David Griggs mounts his debut solo show in Singapore. The exhibition is the first multi-artform presentation to feature all aspects of Griggs' practice: painting, photography, installation and video. Frustrated Poverty Porn Bubble Gang offers a carnivalesque entrée to the artist's unique, often macabre perspective on contemporary popular culture.
Griggs's artistic practice has been richly informed by his years spent living and working in Manila. In his work, global and local pop cultures are intertwined with street and gang aesthetics, infused with a dark satire. Behind his mischievous brushstrokes lays a critique of the representation of poverty in the Philippines and its exoticisation by the media, in particular the film industry. His works portray an amalgam of local identity through the twisted lens of an exploitative spectacle.
Bubble Gang is a popular TV comedy in the Philippines. "It's a show that everyone either watches or knows about," says Griggs, "but really I just like the way Bubble Gang sounds, like a rainbow ghetto gang." The eponymous series of photographs in this exhibition are installed against a large, colourful backdrop – the 'Sunset Set' -, which was a prop in one of Griggs' earlier video pieces. The artist has scaled the images to the specifications of the iconic LIFE magazine, a formal provocation that questions the artistic pretensions of photojournalism.
Griggs enjoys being on the street. His approach is not invasive; he strives to find potent images of moments that catch his interest. But he is reticent about this documentation of Manila's street life. The image should carry all the information required by the casual observer. The element of chance is important – these shots are far from posed – yet they are composed, according to a formal rather than a narrative logic. Poverty itself is not depicted. Working in the slums and sketchy areas of Manila, the artist is conscious of the ethical stakes, seeing the series as a form of "anti-Poverty Porn".
The Bubble Gang images are fresh, honest, and candid, yet not without a certain mystery. Griggs enjoys the role of observer, studying human behaviour in the personal and communal situations around him, and the social and political structures that cannot be separated from them. "I shoot photographs the same way I compose a painting," he says, "letting my gut instinct control the composition, the only difference being that with photography I have to make that decision very fast".
The two large paintings in the exhibition make playful reference to icons of white Anglo-American culture. A faux naïf appropriation of the image of Freddy Krueger pokes sardonic fun at the art world's craving for a good fable. Griggs suggests that in our state of visual saturation we are all mirrors of American culture in some way, whether we like it or not. But any pathos is in turn submerged in his bright, candy-like palette. He takes on contradictions that are latent in our environment – between reality and fiction, history and utopia, particularities and stereotypes.
Frustrated Poverty Porn Bubble Gang marks the first time all aspects of Griggs' practice – painting, digital video and photography – have been shown together. His 2013 video WHERE'S FRANCIS? sends up the film industry. Inspired by the making of Francis Ford Coppola's 1979 war epic, Apocalypse Now, set in Vietnam but filmed and produced in the Philippines. Shot in Manila, Griggs' video revolves around two film extras, buried in the ground up to their necks. Abandoned by their director, the two engage in a nonsensical dialogue.
This attraction to the grim side of life informs much of Griggs' work. As an alien from a 'lucky country' finding his way in the Philippines, he is both fascinated and repulsed by the contemporary world, a world ceaselessly defiling and restoring what it professes to hold sacred.