The Powerhouse Visiting Research Fellows Presentation by Dr Sarah Bendall and Dr Sarah Mills
2:30 pm - 4:00 pm
22 Jun 2022.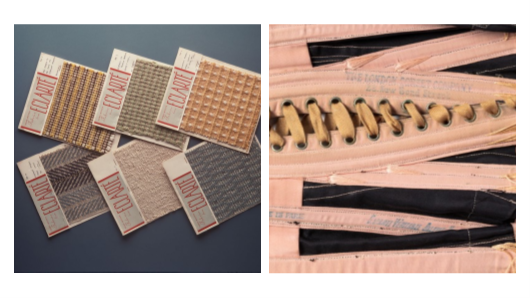 Date: Wednesday 22 June
Time: 2:30pm – 4pm
Location: Theatrette, Powerhouse Ultimo / MS Teams
Price: Free
Join the Powerhouse Research fellows Dr Sarah Bendall and Dr Sarah Mills as they discuss their research projects that feature aspects in the history of textile and fashion design. The presentation will discuss the use of whalebone in fashion and the invention of synthetic fibres in Australian garments.
Dr Sarah Bendall's talk draws upon museum objects to explore how the historical use of materials such as whalebone intersect with concerns about innovation and manufacturing, economics and availability. The presentation will also discuss ethical questions about the sustainability of materials that are used in fashion.
Dr Sarah Mills' presentation examines how the invention of plastic fibres shaped Australian textile design and weaving. Through studying fibre artifacts from the Powerhouse collection, Dr. Mills' presentation will assess how the importation of synthetic textiles inspired a craft interest in the free forming of materials in textually expressive woven design.
Speakers
Dr Sarah A. Bendall is a Research Fellow at the Gender and Women's History Research Centre, Institute for Humanities and Social Sciences, Australian Catholic University. She is a material culture historian who has published widely on early modern fashion. She is the author of Shaping Femininity: Foundation Garments, the Body and Women in Early Modern England (Bloomsbury, 2021).
Dr Sarah Mills is an Assistant Professor of Design History at San José State University. She is presently working on The Sculptural Turn: Modern Weaving in the United States, a book project that traces the history of weaving as a craft practice and form within the modernizing textile industry.
If you cannot attend this event in person there will be also be a livestream provided through Vimeo. Sign up with the 'Free Registration – Livestream Only' ticket and you will receive the livestream link in advance by email.
Image captions, left to right: Set of swatches (29), wool & linen, Australia, c. 1950. By Eclarte. Corset with suspender straps by The London Corset Company, c. 1905-25. MAAS, A8389. Inside it is stamped "Garati Veritable Baleine Neuve [Guaranteed True New Whalebone]."
Find Out More
Getting to: Powerhouse Museum
---
Opening Hours
Everyday
10:00 am to 5:00 pm
---
MAAS Cafe
The cafe is on Level 3, next to the entrance, is the perfect start or end to your day at the Powerhouse Museum.
Open for breakfast from 7.30am until 5.00pm every day, the MAAS cafe provides a relaxing environment to sit with a coffee or a glass of wine and enjoy a burger or petite cake.
Operated by Create Consultants, a young dynamic group of hospitality specialists bringing life and a fresh new approach to the Museum's catering choice.