10 AGENTS OVER 10 MONTHS #8: DISASTERS
7:00 pm - 8:30 pm
28 Oct 2021.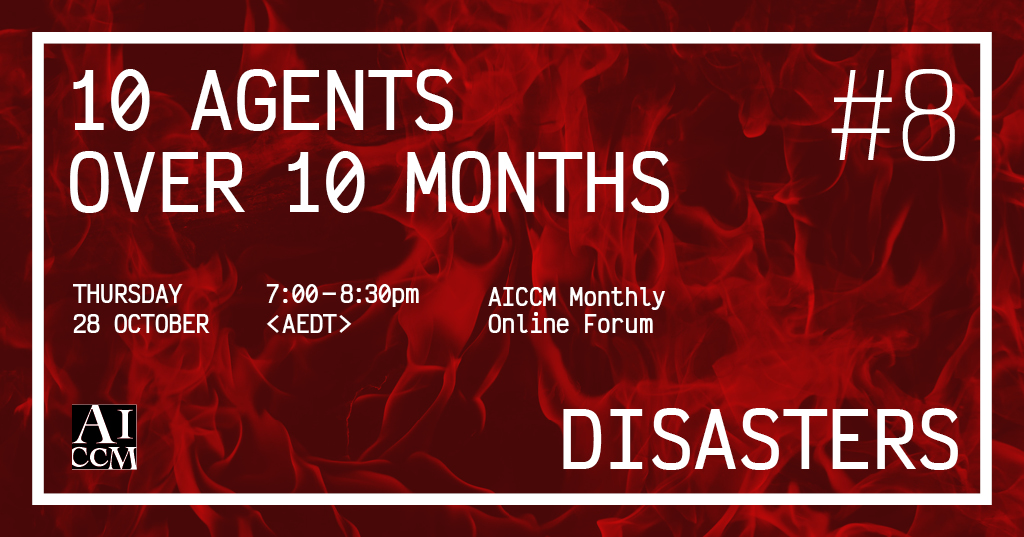 Join us at online forum #8: DISASTERS of our 10 AGENTS OVER 10 MONTHS series with guest speakers Jennifer Thomson, Scotia Monkivitch, and Dr Dolapo Fakuade.
Our country, like others, is experiencing more frequent and more intense natural disasters. This session will revisit the devastating 2019 bushfires, discover how recovery networks are building, uncover the community response and look beyond the traditional response and recovery.
How we can respond better.
Jennifer Thompson – Bundanon and Bushfire.
Scotia Monkivitch – Creative Recovery Network
Dr Dolapo Fakuade – Director of Resilespur Consulting.
Thursday 28 October 2021
7pm-8.30pm AEDT
FREE Event 
Thank you to our session sponsor DataComIT and session supporters Steamatic and Prolab
See our full 10 AGENTS OVER 10 MONTHS program. https://aiccm.org.au/events-and-webinars/10-agents-10-months/
Find Out More