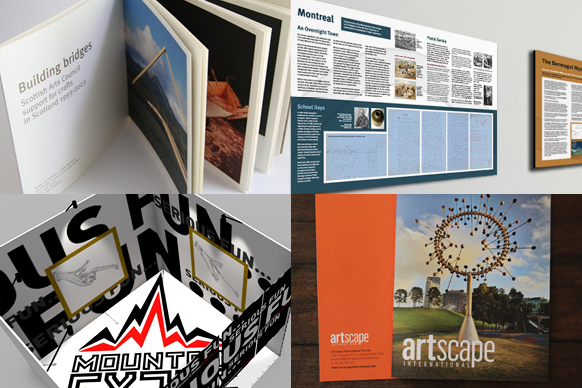 Profile
Hark Design is a multidisciplined creative studio working in areas including:
 – graphic design, identity, branding, strategy, marketing communications and user interface design – spatial environment design, exhibitions and displays
 – experiential marketing. 


We are experienced in a wide range of projects, from identity development, printed material, invitations, signage, environmental graphics and electronic communications (user interface + experience design, email marketing, websites, on-screen presentations), to fully documented (temporary / permanent / mobile) exhibition and display environments.


Principals Kerry Hewitson and Gerard Thomas bring together a wealth of local and international experience and knowledge, along with a real passion for design and a firm grip on commercial realities. We have worked with a wide range of individuals and organisations (including the Scottish Arts Council, specialist experiential marketing agencies, large corporate bodies, small businesses and individual designers/artists) to collaborate and deliver projects above expectations.
Projects
Design of a suite of interpretative panels for the Montreal Goldfield Heritage Centre museum, Bermagui, NSW. Montreal Goldfield Management Committee, 2013.
Identity design, marketing materials, website. Artmap Studio, 2013-2014.
Design for Volkswagen and Medibank Wiggles sponsorship activations – including display and branded environments, Chinese New Year event installations and parade floats. Martillo, 2008-2013.
Exhibitions, branding, communications, promotional materials, product design, website, vehicle graphics, Mountain Cycle Inc USA, 2008-2011.

Branding, communications, promotional materials, website, environmental graphic applications, signage. Kevin McKenzie Hair London, 2008-present.


Collaboration with various experiential marketing agencies for branding and built environment design, including: Sony Blu-ray Qantas Business Lounge installation, Telstra roadshow (mobile truck environment fit-out design), Telstra Ce-Bit exhibition stand and Samsung HQ dealer showroom. 2007-present.
CONTACT INFORMATION
Kerry Hewitson
Principal
Hark Design
PO Box 655
Haberfield
Haberfield NSW
Phone: (02) 8012 1195

---
---
OPERATION AND STAFFING
Year Commenced: 2007
Number of Staff: 2
Staff Basis: Permanent
AICCM member: N/A
GST Registered?: Yes