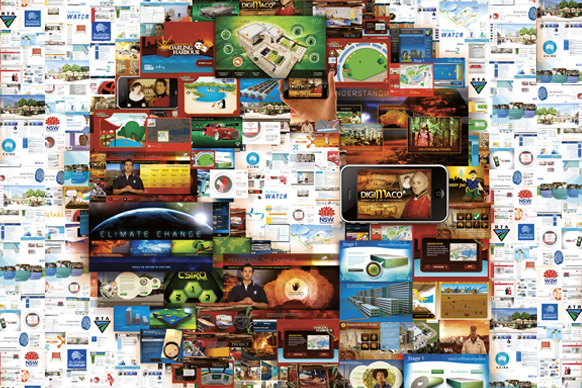 Profile
Art of Multimedia (AOM) develops and delivers award-winning, innovative, cultural and environmental heritage interpretation, community engagement and education, marketing and promotion, organisational change management and training as well as eLearning.
One example of award winning interpretation projects is The Rocks Discovery Museum, where The Rocks history is made accessible to visitors of all ages via 13 multimedia installations, including a simulation of the flooding of the Sydney Basin, games and videos. This project was awarded the National Trust of Australia Excellence Award (NSW) 2006 and Interpretation Australia Excellence Award 2010.
AOM works in ongoing partnership with clients, often collaborating with external specialist heritage or built environment firms. Clients range from cultural and not-for-profit organisations, government departments and private businesses of all sizes. Our vision is to make the world a better place by creating transformative communication experiences that change an audience's perceptions and exceed our client's expectations.
Projects
Eveleigh Stories - Carefully researched and beautifully crafted heritage interpretation resources comprising print, videos, kiosk, website and mobile walking tour developed for the Australian Technology Park and launched in 2015. Winner Interpretation Australia Best of Excellence Award 2016
Railway Time - Clocks and timekeeping in the NSW Railways. A historically accurate, visually engaging 15 minute documentary film and historical report available in print, online, DVD and USB card produced for Sydney Trains and launched 2015. National Trust 2017 Heritage Awards Winner. Sydney Opera House: Revealing Archeology, an interpretive film about the discovery of the remains of a Lime Kiln site beneath the Opera House completed March 2014.
Finding Bennelong, a thought provoking and culturally respectful website delivering multi-layered interpretation and education through 13 videos incorporating historic artworks, narrative and extensive research including links to primary sources, City of Ryde, December 2013.
Albury CBD Historic Buildings cross platform GPS-enabled app interpreting key CBD sites with images and audio narrative, Albury City Council, January 2013.
St Mary's Water Recycling Education Centre, a bespoke system of kiosks with a backend Content Management System and 7 modules of educational content, ranging from 3D animation, videos, interactive games and multimedia, Sydney Water, Kiosks 2012 and last module completed July 2013.
DigiMacq, an interpretive, ramified walking tour for the iPhone, containing 45 minutes of video content created using historical assets weaved into a first person narrative with 26 characters including Governor Macquarie, Parramatta City Council, July 2010.