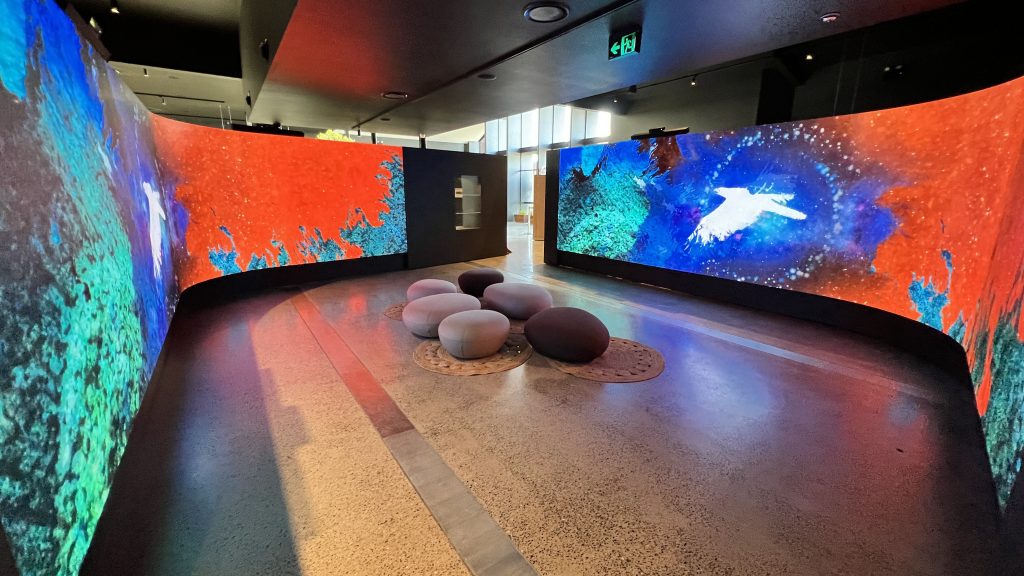 Profile
Multimedia. With meaning.
We're an interactive design studio that crafts compelling communications and immersive cultural experiences for enduring impact.
Story magic you can trust
At Art of Multimedia we believe in longevity over hype. Meaningful over trendy. Substance over appearance. Bespoke over formulaic.
AOM brings a thoughtful simplicity to complex storytelling and digital challenges, to inspire each audience and create enduring impacts for our clients.
Always exhibiting a bias to action, and a dedication to take ideas to fruition, we are a safe pair of hands to deliver on big ambitions.
Award winning makers
We combine talent with innovation. As experts in rich, immersive storytelling, AOM stay at the forefront of new media so you don't need to.
Let's collaborate to create meaningful visitor experiences, exhibitions, films and 3D visualisations, websites, multimedia, VR & AR, oral histories, interpretive walking tour apps and signage.
Projects
Worimi Local Aboriginal Land Council, the design, development and production of the digital visitor experience for Murrook Culture Centre (2023) involving interactive LED walls and projection mapping and extensive multimedia, video production and animation.
Bonnegilla Migrant Experience (2022) featuring video histories, migrant ID Cards microsite and database, and multimedia exhibits. Project delivered in collaboration with Convergence Design, winner of 2023 MAGNA Award for Permanent Exhibition & Gallery Fitout.
Department of Veterans' Affairs Stories of Service (2022) comprises 6 documentary films of Veterans serving in Vietnam and Peacekeeping.
Rocks Discovery Museum Website and Museum Exhibition Design and Development (2022) comprising 17 interactives.
Hermannsburg Historic Precinct (2021) Interpretation Plan, Visual and Experience Design, as well as development of an interpretive website, walking tour and object database. Project delivered in collaboration with NOHC, who led the consultation with the Ntaria Aboriginal community and curated the stories.
'Archaeology at The Big Dig' (2020) a documentary film that interprets the history of one of the largest urban archaeological sites in Australia and provides a rare insight into early urban life in Sydney reached an audience of 175,000 viewers during broadcasts on SBS. The project also involved a 17 minute educational version 'The Big Dig – Investigating Colonial Lives in The Rocks' and 6 minute guest version "Digging into The Rocks – Sydney Harbour YHA and The Big Dig Archaeological Site'.
Sydney Trains We open the line in 1979 – The ESR Turns 40! (2020) involved a series of celebration events, supported by a social media video, digital and print collateral. The project was a winner of the 2020 National Trust Heritage Awards in the Heritage Events, Exhibitions & Tours Category.
Taronga Zoo Tiger Trek (2018) is a digital interpretation experience involving a 3D simulated flight, videos and other digital components in engaging the public in protecting the Sumatran Tigers and their habitat. Winner of 2018 Interpretation Australia Excellence award in the project over $150,000 category.
Sydney Trains Running on Time – Clocks and Timekeeping in the NSW Railways (2017) comprising a 15 minute documentary and publication, delivered online and via tours run by Sydney Trains Heritage Division. The project was recognised as Winner in the Tours & Multimedia category of 23rd Annual National Trust Heritage Awards 2017.
Eveleigh Stories (2015) which interprets the history the Eveleigh Workshops through stories of people organised in a thematic approach and delivered via a website, mobile tour, kiosk, videos and print collateral.This project was awarded the 2016 Interpretation Australia Best of the Best Excellence Award.
Sydney Opera House Revealing Archeology (2014) is an interpretive film which tells the story of intriguing archaeological remnants unearthed during construction on a new loading dock for the iconic building. The film involved thematic storytelling, 3D animation and motion graphics and was a winner in the 2014 National Trust of Australia (NSW) Heritage Awards, Education and Interpretation Government and Corporate.
The Rocks Discovery Museum (2005) where The Rocks history is made accessible to visitors of all ages via 13 multimedia installations, including a simulation of the flooding of the Sydney Basin, games and videos. This project was awarded the National Trust of Australia ExcellenceAward (NSW) 2006 and Interpretation Australia Excellence Award 2010.
Finding Bennelong (2013) is an Aboriginal cultural heritage project launched in December 2013, to educate the public as well as commemorate and celebrate the life of Woollarrawarre Bennelong. Developed by AOM in collaboration with AHMS and 3D Projects and finalist in the 2014 Local Government Arts and Culture Awards and the 2014 National Trust of Australia (NSW) Heritage Awards.
Parramatta City Council's DigiMacq (2010), an interpretive iPhone App design and media engaging contemporary audiences with first person narrative from Governor Macquarie's period of Parramatta, was awarded Interpretation Australia Excellence Award in 2011.
CONTACT INFORMATION
Beata Kade
Managing Director
4 View Street
West Pennant Hills
West Pennant Hills NSW
Phone: 92094309

---
---
OPERATION AND STAFFING
Year Commenced: 1999
Number of Staff: 2
AICCM member: N/A
GST Registered?: Yes
ABN: 54 624 600 340