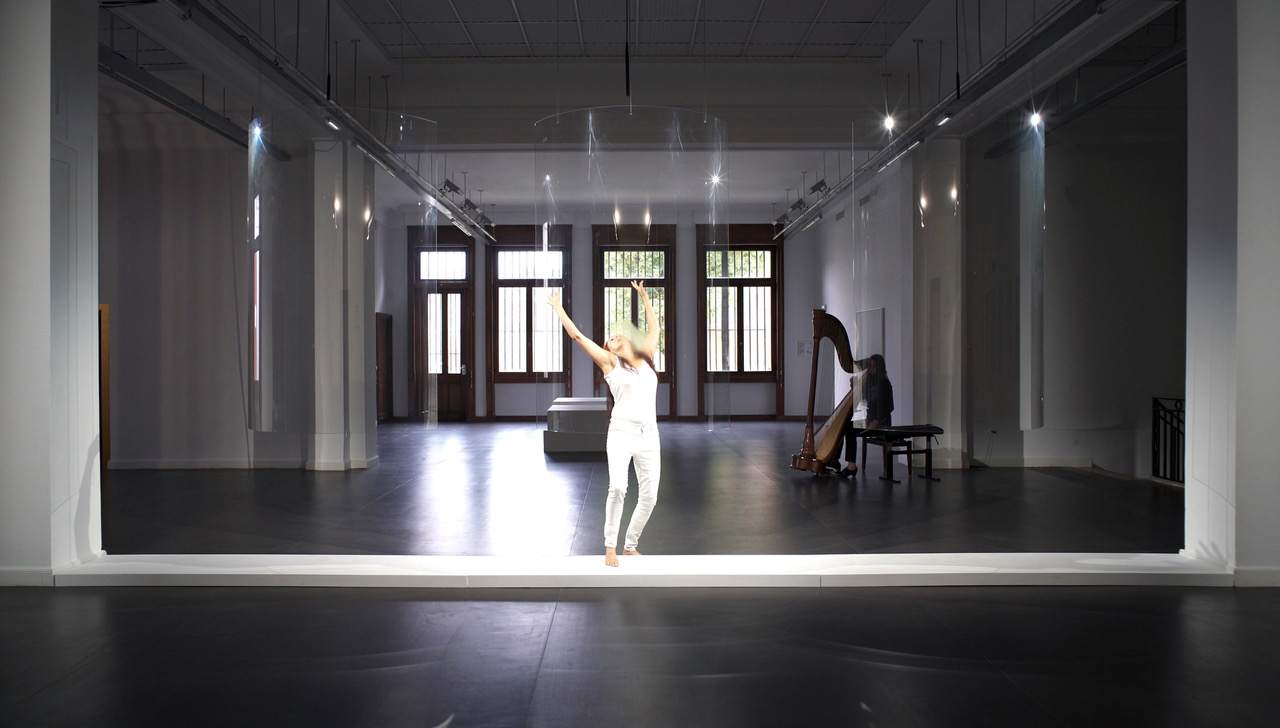 Mel O'Callaghan, Respire, respire, 2018.
Performance with glass sculptures and harp 20 minutes, dimensions variable Labanque, Bethune, France
Connect with your audiences in a personalised and in depth way through cultural mediation.
Widely recognised as an invaluable tool by institutions across Europe, cultural mediation generally refers to the process of gaining and negotiating knowledge about the arts and social or scientific phenomena through exchange, reaction and creative response. Cultural mediators work within organisations to improve the quality of the public's visit to the museum or gallery and to broaden the possible ways of experiencing and interacting with an object and its context.
Presented by Museums & Galleries of NSW in partnership Artspace, this workshop will explore cultural mediation through a day of talks and practical activities. Accompanying workshops will train participants in the basics of mediation and how to be an art mediator.
The concept of mediation has broad applications across the cultural and historical sector and the skills learned in this program can be applied to any institution or organisation charged with the collection, preservation, interpretation or presentation of cultural objects and material. Cultural mediation within the visual art and art gallery/museum context has the potential to increase understanding, appreciation and critical thinking about the contemporary visual arts, ideas and practices.
Contemporary Australian artist Mel O'Callaghan's experience working with professional mediators in European institutions forms the starting point for discussions on the day and her exhibition Centre of the Centre at Artspace provides an opportunity to test and explore ideas practically.
Speakers include:
– Marion Buchloh-Kollerbohm, Head of Cultural Mediation, Palais de Tokyo, Paris, France
– Mel O'Callaghan, artist
– Lee Casey, Head of Communications and Engagement, Science Gallery Melbourne, University of Melbourne
– Emily Sullivan, Curator, Kaldor Public Art Projects
Afternoon practical sessions will be run by Marion Buchloh-Kollerbohm and Ellie Michaelides, Learning & Engagement Coordinator, Science Gallery Melbourne and the day will include a tour of Mel O'Callaghan's Centre of the Centre exhibition and performance.
When: 11am – 5pm, Monday 26 August
Where: Artspace Sydney
Cost: $55 + booking fee
BOOKINGS OPEN SOON
Light lunch and refreshments are included in the registration cost. Please advise dietary requirements at time of booking.