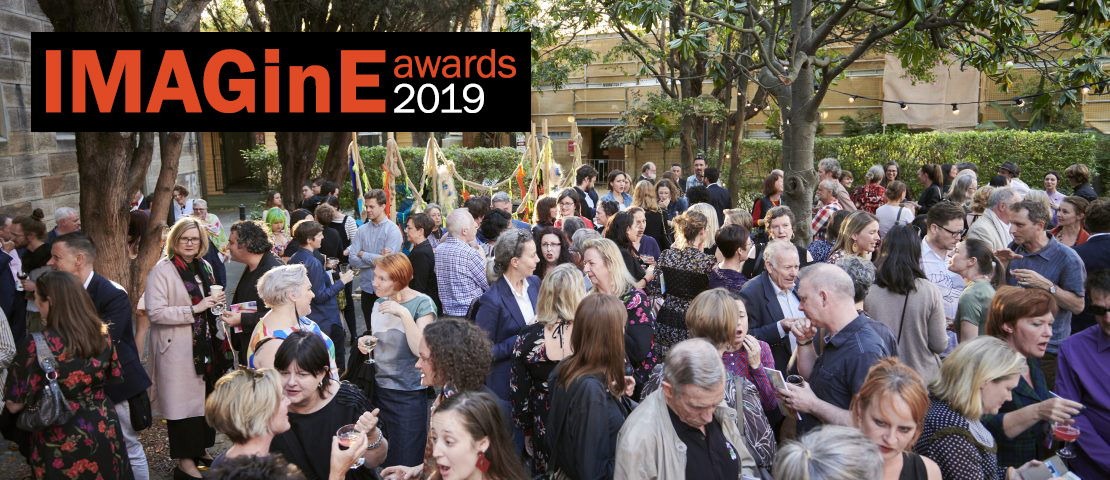 The IMAGinE awards offer you a unique opportunity to advocate, promote your achievements and raise your profile within the sector and the broader community. Nominate now to share how your people and programs have created a richer community and contributed to the extraordinary diversity within the NSW museum and gallery sector.
All nominations will be featured in the print and online booklet highlighting the quality and diversity of the sector in NSW. Nominating for an IMAGinE award recognises the hard work and dedication of your staff and volunteers and is a unique chance to share and celebrate your achievements with your colleagues and the wider sector. An IMAGinE award or commendation increases your exposure, boosts staff morale and can provide extra currency when seeking funding.
What makes a great nomination?
There is no set formula for a winning nomination. The diversity of the IMAGinE awards is one of its greatest strengths. If you have an exhibition, project or person that has gone above and beyond, was something new for your organisation or that you are especially proud of then it will make a great nomination. By following some simple suggestions, you can make sure you do it justice.
Where to begin
Start with a clear and specific statement that outlines why your nomination is worthy of IMAGinE award. Ask yourself why you are motivated to nominate this particular person or project.
For an exhibition, program or project: What made this project special? What aspect most clearly defined the success of the project? What did your staff, volunteers, audience and community get out of the project? What is the lasting legacy of the project?
For an individual: What activities or actions has the nominee undertaken that stand out? What has the nominee accomplished that goes above and beyond their job description? What special skills or talents have they employed? How has the nominee changed their community, city or organisation?
Consider your audience
The people on our selection panel are museum and gallery professionals but they may not have seen the exhibition or project, know the individual you are nominating or be familiar with your organisation. Assume you are talking to an intelligent, engaged audience without specific expertise in your field. Use clear direct language and make sure you tell us 'what' the nomination is as well as 'why' it should win.
Share the story
Strengthen your nomination by painting a picture of the project or person. What was the atmosphere of the exhibition? What challenges were overcome to deliver the project? What comments have you had from your audience and community? Has this project made you feel differently about your organisation? How does it/they inspire others? What motivates this person?
Back yourself
Use examples that demonstrate why your nomination is an inspiring role model. Support your nomination with facts and examples. Select a couple and explain how they are relevant instead of a listing statistics with no context.
Aim for quality, not quantity
A long nomination isn't always a better nomination. Try to keep your sentences short and concise, and avoid repetition. Steer clear of detailed artist biographies, itineraries, job descriptions or work histories. Use your support material to expand on your written nomination and avoid providing multiple documents that don't offer new information.
Stick to the selection criteria
Our panel is looking for nominations that address the selection criteria. This is slightly different for each category so check the relevant nomination form and make sure you have addressed each point in your nomination.
Check eligibility
Take the time to make sure that your nominee meets the eligibility criteria.
You can check the guidelines and contact us if you have any questions.
Supply great imagery
Highlight your nomination's innovation and quality through clear hi resolution images. Although the judges don't take the promotional images into account when assessing the nomination the better your photos are, the better the nomination will look in the booklet and on the awards night.
Promote.
Let your community know about your nomination by adding your nomination to your website, social media and email newsletters.
Ready to nominate?
Nominations close: 5pm, Thursday 15 August 2019

For more information, or if you have any questions, please contact the MGNSW team, 02 9252 8300 – imagine@mgnsw.org.au