Barbara Cleveland Thinking Business
Thinking Business is an exhibition by Barbara Cleveland that explores forms of female friendship, collaboration and artistic labour. The project takes its title from Hannah Arendt's description of her friendship with Mary McCarthy. As Arendt wrote, "it's not that we think so much alike, but that we do this thinking-business for and with each other." This idea of an intellectual and creative connection between women is at the centre of this project, which focuses on the 15-year-long working relationship between the members of Barbara Cleveland.
Presenting five video works spanning ten years of the collaborative's prolific career, each work contributes to a fascinating study of humour, absurdity and feminist practices. Thinking Business highlights the performative aspect of Barbara Cleveland's work which brings endurance, labour and time to the exhibition, with great impact. The exhibition will be presented as a theatrical installation and has been designed in collaboration with architect Luke Pigliacampo.
With the rise of neoliberalism and the acceleration towards individualism and precarity, this project turns towards the collective and the collaborative to consider alternative support structures and other ways of thinking and working together.
Thinking Business is a carefully curated survey of Barbara Cleveland's work and their inaugural solo exhibition at a public gallery in Australia.
---
ABOUT THE ARTISTS
Barbara Cleveland is an Australian artist collective directed by Diana Baker Smith, Frances Barrett, Kate Blackmore, and Kelly Doley, working on Gadigal land (Sydney). The collective take their name from the mythic feminist performance artist who they recovered from the margins of Australian art history and who has been a key feature in their work since 2010. Barbara Cleveland's projects are informed by queer and feminist methodologies that draw on the historical lineages of both the visual and performing arts.
Barbara Cleveland have shown their projects at Art Gallery of New South Wales, Sydney Biennale of Sydney, Queensland Art Gallery Gallery of Modern Art, Brisbane and Hayward Gallery, London.
Diana Baker Smith is an artist and writer. Her projects are research driven and typically develop through methods and practices of performance and collaboration. Her current research focuses on revisiting marginalised narratives in art history through performative practices. Diana has a PhD in art history and works as a lecturer at UNSW Art & Design.
Frances Barrett's recent projects pivot around the modalities of listening and touch: Meatus, Australian Centre for Contemporary Art, Melbourne, 2020; All Ears: A listening party, Campbelltown Arts Centre, 2018; Into My Arms, Ace Open, Adelaide, 2018; and Handle, CCS Bard Hessel Museum of Art, Annandale-on-Hudson, 2018.
In 2019 she was one of the recipients of Suspended Moment: The Katthy Cavaliere Fellowship. Frances is currently a PhD candidate in Curatorial Practice at Monash Art Design and Architecture.
Kate Blackmore's films have been presented across cinematic, broadcast and contemporary art contexts and aim to extend the theoretical limits of what is traditionally meant by the term 'documentary'. She has written, directed and produced several films for the Australian Broadcasting Corporation including the Walkley Award nominated dance series, THE MOVEMENT. Kate is currently teaching at UNSW Art & Design.
Kelly Doley was born in Naarm/Melbourne and is of Scottish descent. Her projects often use performance, conversation and painting, specifically the craft of hand painted sign-writing, a skill passed on by her Dad who was a commercial set painter.
She has exhibited most recently at Sullivan+Strumpf, the 2018 Adelaide Biennial and Unfinished Business: Perspectives on art and feminism at the Australian Centre for Contemporary Art (Melbourne). Her works are held in various collections including Sheila Foundation, Artbank, Museum of Contemporary Art and the Art Gallery of New South Wales.
---
FEATURED WORKS
The exhibition will feature recent and existing works spanning the last decade of the collective's collaborative practice, including the following
Performance Art (15 Actions for the Face), (2014)
In Performance Art (15 Actions for the Face), the four members of Barbara Cleveland perform a series of simple instructions communicated through title cards and read aloud, such as, 'Say "hello" without moving your face' and 'Touch your nose with your tongue'.  In this work, a companion piece to Performance Art (Group Action), Barbara Cleveland draw from art historical references and popular influences as well as educational strategies used in children's television.
Performance Art (15 Actions for the Face) was commissioned by the Museum of Contemporary Art for the 2014 Jackson Bella Room.
More about Performance Art (15 Actions for the Face)
---
One Hour Laugh (2009)
In One Hour Laugh the four members of Barbara Cleveland perform a routine of endurance laughter. Over the course of the hour, their laughter travels between tedium to strain, to genuine hilarity, to humiliation. Barbara Cleveland's unsettling laughter parodies the austerity of performance art documentation through overt theatricality and seemingly senseless enjoyment.
---
Work in Progress: From Dawn to Dusk (2010)
In an endurance work of performative group work, the four members of Barbara Cleveland take turns to hammer a wooden post into the ground with a mallet. Dressed in blue overalls and white t-shirts, the women continue their task silently in a paddock from 6am until 10pm (or so it seems). The tacit collaboration of the team and the calm endurance speaks of women's work, communality, physicality and persistence. With an underlying humour, Dawn to Dusk references performance art and its intertwined history with feminist art of the 1960s and 70s.
---
Bad Timing (2017)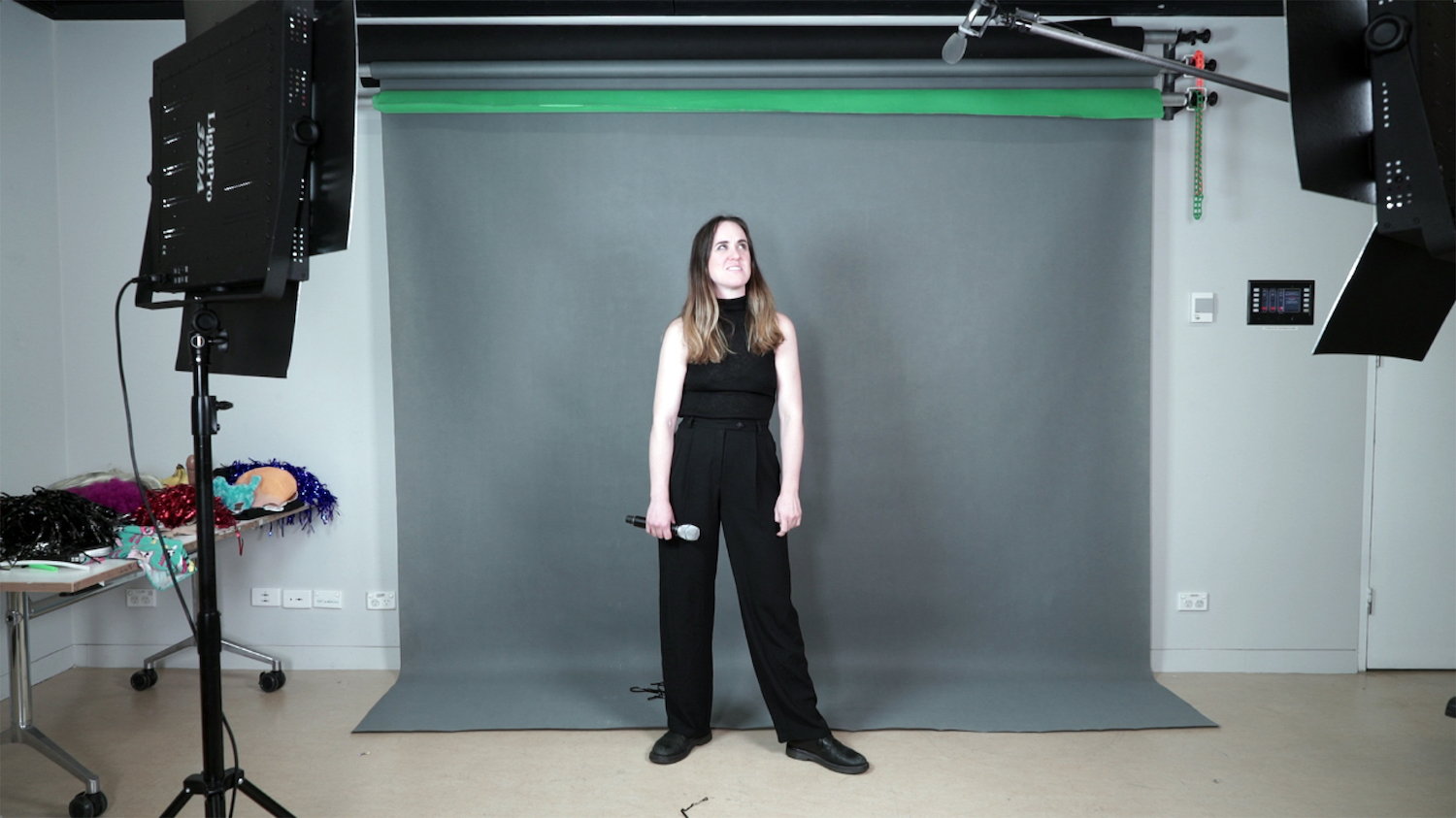 As serious as it is absurd, Bad Timing foregrounds humour as part of the collective's feminist methodology and seeks to draw attention to the lineage of humour throughout feminist performance practice over the past 40 years.
---
This is a stained glass window (2019)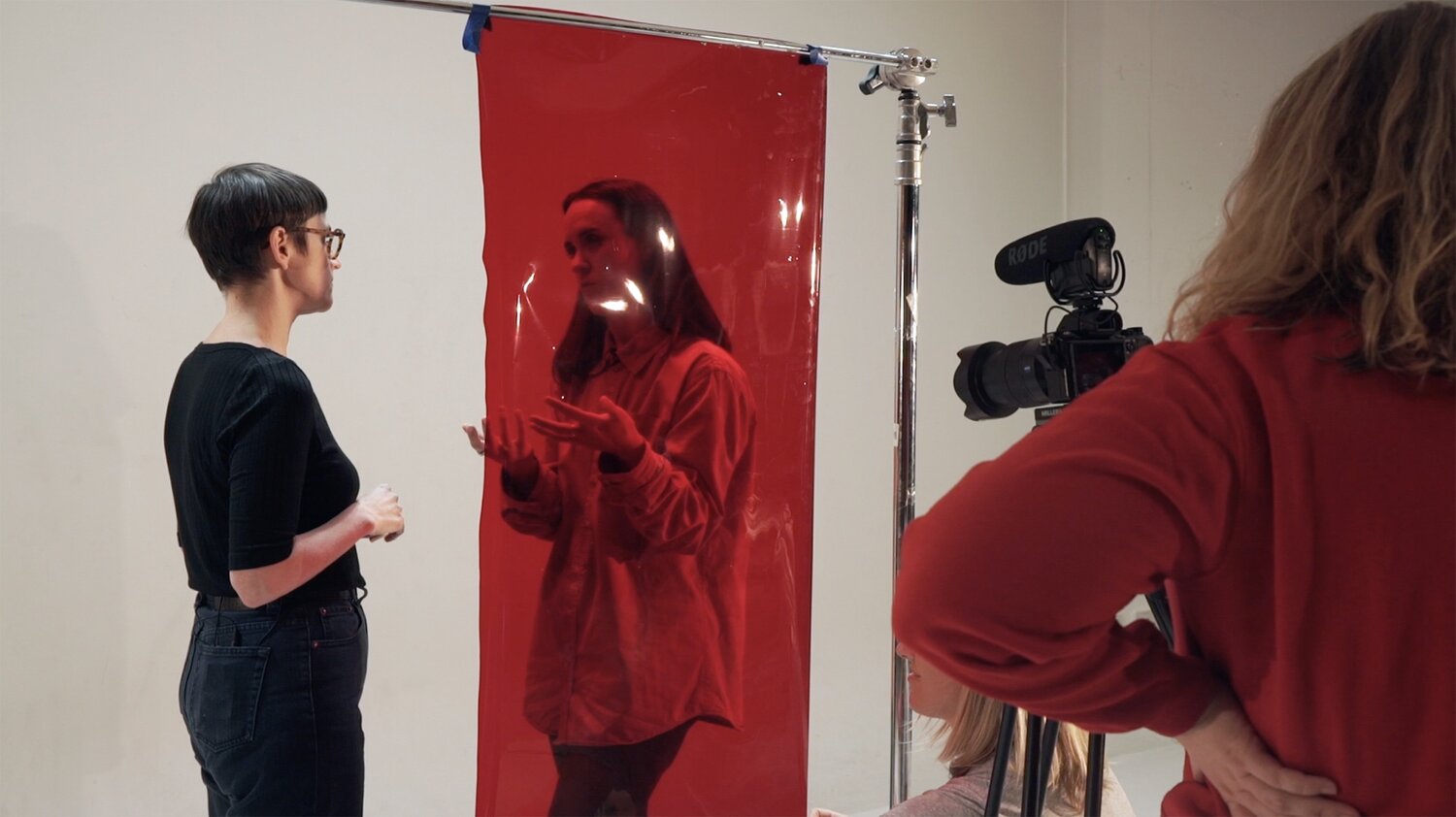 Inspired by the description of the friendship between the two authors Hannah Arendt and Mary McCarthy as a 'thinking business for and with each other', This is a stained glass window enquires into the friendship and 15-year shared intellectual and creative pursuit of Barbara Cleveland. In this work, the collective positions their friendship, their artistic labour and their collaboration as a stained glass window – an accumulated density that exists between them. Through a self-reflexive video portrait, which draws on the aesthetics and conventions of cinema vérité, conceptual art and performance documentation, This is a stained glass window traces Barbara Cleveland's unique working model and their imbricated lives.
---
EXHIBITION AND TOUR INFORMATION
On view at Goulburn Regional Art Gallery between 9 October – 14 November 2020, this exhibition will be available to tour from late 2021.
All works will be shown on large screens, and it is anticipated that all equipment required to display the works will travel with the exhibition – the exhibition at Goulburn Regional Art Gallery will encompass a more theatrical installation. Optional design elements including screens, curtains and stools are available for venues to incorporate into their presentations. M&G NSW, Goulburn Regional Art Gallery and the artists can assist in designing an appropriate layout for each space.
In addition, a compilation of texts will be incorporated as a poster/graphic component to the exhibition design. The texts are a compilation of Barbara Cleveland members email conversations over ten years, such as 'can we meet tomorrow', 'no I am not available, but Wednesday is good' 'I can do Tuesday' and brings a personal, humorous experience to the exhibition. A selection of which will also feature in the exhibition publication.
The exhibition will be accompanied by a catalogue featuring new writing from Jóse Da Silva, Veronica Tello, Amelia Wallin, Gina Mobayed and an existing essay from Tara McDowell.
An in-depth education kit will be produced by Goulburn Regional Art Gallery, as well as a number of suggested public programs and online activities. The artists have all participated in engaging public programs in previous projects – given talks, lectures and walkthroughs – and are very supportive and enthusiastic to be involved with the exhibition as it travels.
M&G NSW are seeking expressions of interest from galleries and art centres who would like to host the exhibition. Please contact us for more information:
Rachel Arndt
Gallery Programs & Touring Exhibitions Manager
e: rachela@mgnsw.org.au
t: 0439 383 899
---
READ MORE
Thinking Business at Goulburn Regional Art Gallery
Art Collector Magazine – Editor's Picks
Art Guide Australia – Preview – Do you remember Barbara Cleveland?
---
Goulburn Regional Art Gallery and Museums & Galleries of NSW touring exhibition. This project has been assisted by the Australian Government through the Australia Council for the Arts, its arts funding and advisory body.