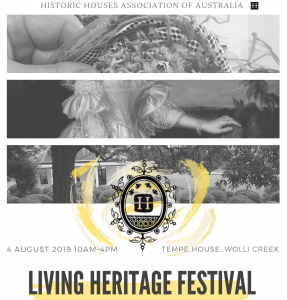 Join us for this inaugural event where archaeologists, historians, curators, maritime and heritage experts come together for a symposium and workshops on the site of Tempe House.
Hear from Stephen Gapps ('The Sydney Wars') on the military tactics of Aboriginal resistance warrior Pemulwuy and his spearing of Governor Philip's gamekeeper on the Cook's River in 1790. Honorary Historian Ross Berry outlines the history of the Tempe House estate focusing on the design by Colonial architect John Verge. Historian and archaeologist Paul Irish ('Hidden in Plain View') will explore the ancient and ongoing Aboriginal connections to the Cooks River. With presentations from Hilary Davidson on the romance of colonial fashion and Colleen Morris on landscape heritage.
Featuring Heritage workshops: 'Caring for your Antiques' with curator and conservator Robert Griffin; 'How to research the History of your House' and 'Sustainability for the Heritage Home'. Antiques Valuation with Leonard Joel auction house.