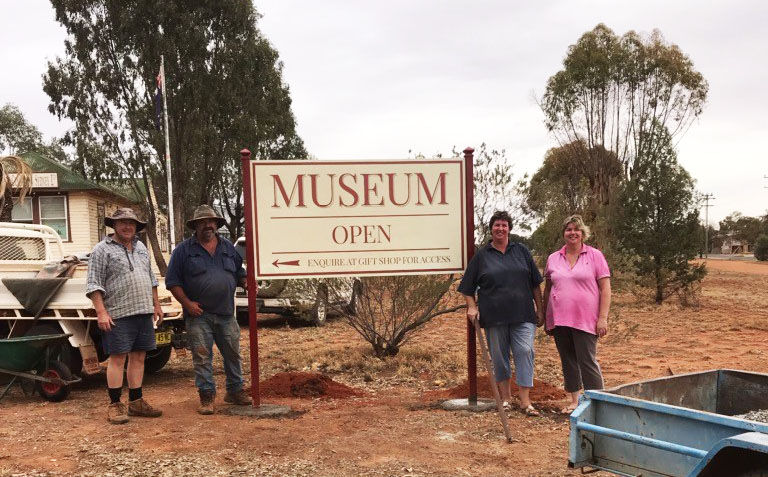 Weethalle Museum, 2018 Small Grant recipient, received funding to manufacture and install museum signage which provides a clear invitation to visitors for exhibition access.
M&G NSW is pleased to announce that we are now accepting applications for two grants from the Volunteer Museum Grant Program for 2020. These grants are designed to provide assistance to volunteer community museums and Aboriginal Keeping Places in NSW. Funded by the NSW Government through Create NSW and administered by Museums & Galleries of NSW, the program is designed to provide access to funding, in addition to providing experience in the grant application process.
Please Note: Priority will be given to applications with a focus on disaster preparedness or recovery, particularly in relation to COVID-19 and bushfires.
Grants available in Round 2 are:
Small Grants
Up to $2,000
Small Grants are for short-term, collection-based projects. There are no set categories for funding and applications for a broad range of projects will be considered.
Applications close 13 September 2020.
Project Development Grants 
$2,500 – $7,500
Project Development Grants allow community museums and keeping places to carry out strategic and innovative projects with mid to long term outcomes. The grants can also provide an opportunity to work productively with an appropriate museums and/or arts consultant as a skill development opportunity.
Applications close 13 September 2020.
For more information about the Volunteer Museum Grants program contact our Museums and Collections Coordinator on 0407 263 463 or emilyc@mgnsw.org.au.
The Museums & Galleries grant program is essential to the continued operations and professional development of volunteer operated rural and regional museums. The program is designed to meet their needs and the grant application are easy to understand and complete. It is often difficult for a small volunteer operated museum to succeed in other state or national grant programs, with large numbers of competitive applications seeking the limited funds available. – Lawrence Museum, Small Grant recipient 2019
The Volunteer Museum Grant Program is a Create NSW devolved funding program, administered by Museums & Galleries of NSW on behalf of the NSW Government.